Shrimp Lasagna with Whipped Canadian Brie and Tarragon Sauce
This is the Shrimp Lasagna with Whipped Canadian Brie and Tarragon Sauce recipe.
Prep: 20 min
Cooking: 15 min - 20 min
Yields 4 servings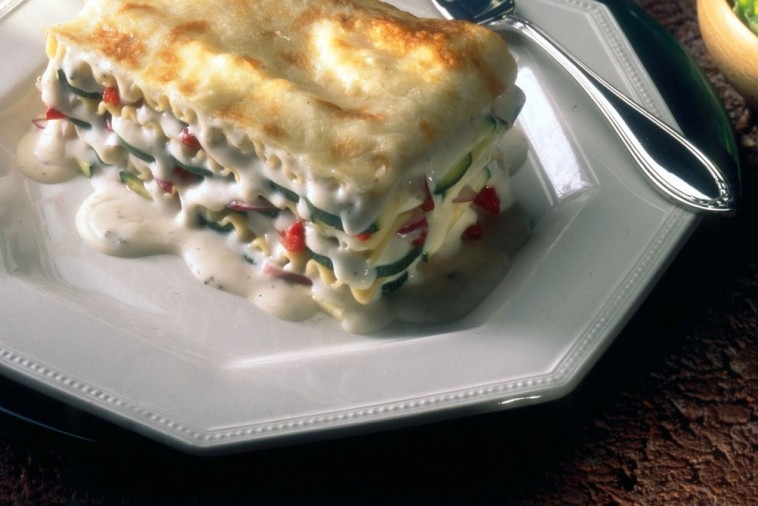 Ingredients
2 sheets of fresh lasagna (12 x 22 cm) cut in 2 on the long side
5 oz (150 g) Canadian Brie rind off (bring to room temperature for at least 2 hours)
1 tbsp (15 mL) sour cream
2 tbsp (30 mL) butter
1 shallot minced
20 shrimps (34/40) peeled and deveined
2 tsp (10 mL) brandy
2 cups (500 mL) fish stock*
1/4 cup (60 mL) 35 % cream
1/2 fennel shaved
1 tsp (5 mL) fresh tarragon leaves
Salt and pepper to taste
4 small bunches of alfalfa sprouts
2 tbsp (30 mL) extra virgin olive oil
Preparation
Cook lasagna according to instruction on package.
In a small blender, mix the Canadian Brie and the sour cream and blend until smooth.
In a saucepot, melt the butter over medium heat and sauté the shallots until golden, 4,5 min. Add the shrimps and cook until pink, 3,4 min. Deglaze with the brandy and add the fish stock.
Remove the cooked shrimps and add the cream. Reduce the sauce to half the quantity or until you are left with only 1/4 cup (60 mL) of liquid. Add the tarragon and season with salt and pepper.
Sauté the fennel with 1 tbsp (15 mL) of butter over medium heat.
Assembly:
Place the lasagna sheet on the presentation plate and add the sautéed fennel and 5 shrimps on the first 1/3 of the sheet.
Fold the second 2/3 of the sheet over the shrimp. Add a generous teaspoon of the Canadian Brie mixture on the sheet and fold the last 1/3 of the sheet, completing the lasagna, making an 'S' shape.
Finish with a small bunch of alfalfa sprouts. Ladle a little bit of the tarragon sauce on top and drizzle with the olive oil. Repeat 3 times to make 4 portions.
Tips
*Note: you can buy fish stock at the supermarket or you can make your own by combining the shrimp shells with 2 cups (500 mL) water, one carrot, 1/2 branch of celery, let simmer over low heat for 12 minutes.