This is the Spicy Steak Surprise recipe.
Prep: 15 min
Cooking: 10 min - 15 min
Yields 4 servings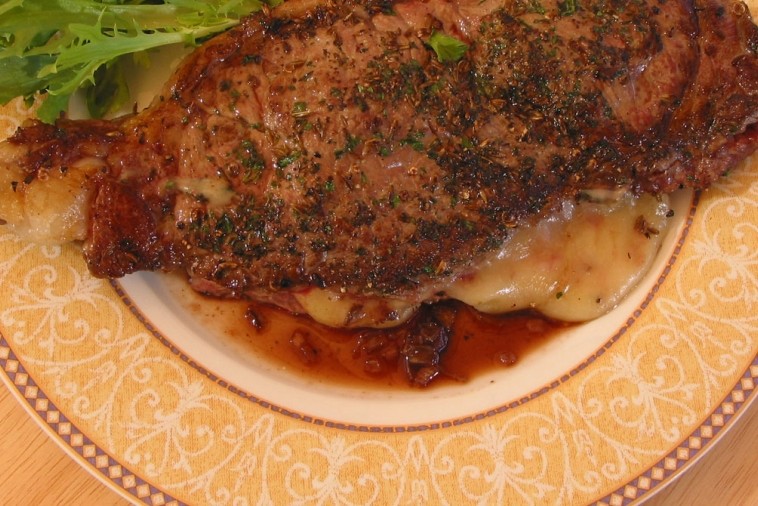 Ingredients
5 oz (150 g) Canadian Migneron cheese cut into 4 thick slices
4 sirloin steaks at least 5 oz (150 g) each
2 tbsp (30 mL) coriander seeds crushed
2 to 3 tbsp (30 to 45 mL) coarse ground black pepper
Salt to taste
2 tbsp (30 mL) oil
2 tbsp (30 mL) butter
Preparation
Preheat oven to 375 °F (190 °C).
Slice and open the steaks towards the thickest part, without cutting all the way through (butterflied) and flatten with a butcher's mallet or frying pan. Place the cheese slices inside the steaks. Close the meat making sure the cheese is well sealed inside.
Mix the coriander seeds, black pepper and salt. Coat the steaks with this mixture.
Heat the oil over a medium high heat and melt the butter.
Brown the steaks quickly on each side. Continue cooking in the oven for 5 to 10 minutes or according to desired doneness and thickness of the meat. The cheese should start melting inside the meat. Véronique Gagnon-Lalanne, chef
Tips
Try this recipe with Canadian Saint-Damase or Canadian Fleurmier cheese.
Learn more about