Have your steak and eat it too! Treat yourself to a sizzling butter-basted steak paired with a cheesy pommes aligot.
Prep: 40 min
Cooking: 50 min
Yields 3 to 4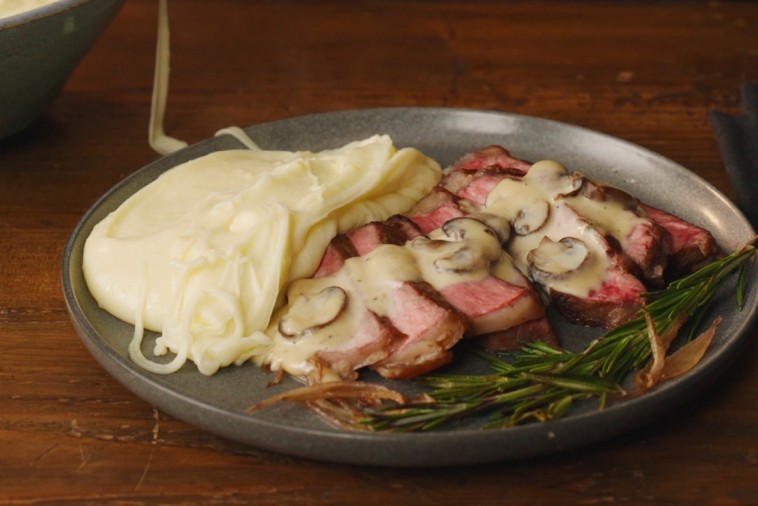 Ingredients
Butter basted steak
1 large bone-in T-bone or ribeye steak
Kosher salt and freshly ground black pepper to taste
1/4 cup (60 ml) vegetable or canola oil
3 tablespoons (45 ml) unsalted Canadian butter
6 fresh sprigs of thyme or rosemary
1/2 cup (125 ml) finely sliced shallots
Creamy Mushroom Sauce
1 tablespoon (15 ml) Canadian butter
400 grams button mushrooms, sliced
1 tablespoon (15 ml) finely chopped garlic
½ teaspoon (2.5 ml) fresh thyme
½ cup (125 ml) white wine
1 cup (250 ml) Canadian heavy cream
½ cup (125 ml) freshly grated Canadian parmesan
½ cup (125 ml) vegetable stock
Pommes Aligot
675 grams Yukon Gold potatoes, peeled and cut into 1-inch chunks
2 medium cloves garlic, 1 whole and 1 minced
2 sprigs thyme
Kosher salt
1 stick (125 ml) unsalted Canadian butter cut into small pieces
1 cup (250 ml) Canadian heavy cream
300g mixed cheeses, such as Canadian Gruyère, Canadian Comté, grated
DID YOU KNOW?
When you see the Blue Cow Logo on a product, it means it's made with 100% Canadian quality milk.
LEARN MORE
Preparation
Butter basted steak
Pat your chosen steak dry with paper towels.
Season heavily, including edges, with salt and pepper. For best results, let the seasoned steak rest at room temperature for 30-45 minutes.
Heat your oil in a 12-inch cast iron skillet, over high heat until it's just beginning to smoke.
Carefully add steak and cook, until a pale golden-brown crust starts to develop, about a couple of minutes on each side.
Add butter, herbs and shallot to skillet and continue to cook
To baste, tilt pan slightly so that butter collects by the handle. Use a spoon to pick up butter and pour it over steak, aiming at light spots.
If your butter begins to burn, reduce heat to medium.
Continue flipping and basting until an instant-read thermometer inserted into the thickest part of the steak side registers 120 to 125°F for medium-rare or 130°F (54°C) for medium.
Transfer steak to a large heatproof plate and rest for 10 min.
Creamy Mushroom Sauce
Heat the butter in a cast iron pan and sauté the mushrooms until they are golden brown. Once the mushrooms are sautéed, add your garlic and sauté for another minute.
Add the wine, thyme and reduce the wine to about half.
Reduce the heat to low and stir in the cream and parmesan until well combined
Finish the sauce by adding the stock and reduce to a simmer until you reach the consistency you are looking for.
Pommes Aligot
Cover potatoes with cold water in a large pot. Season with salt.
Add 1 whole clove of garlic, and the thyme.
Bring water to a boil over high heat, then reduce and simmer until a knife easily pierces potatoes with no resistance, about 20 minutes.
Drain potatoes in a colander, discard thyme and garlic clove.
In a bowl, purée the potatoes very finely, mixing butter cubes in as you go. Add the minced garlic to the mash.
In a saucepan over medium-low heat. Stir potatoes well until butter and garlic are fully incorporated.
Add the cream and stir well, continue stirring and working potatoes, lowering heat to low if potatoes begin to sizzle and steam, until potato mass feels thickened and sticky, about 3 minutes.
Add grated cheese in small batches. Continue stirring potatoes until they become thick, silky, smooth, and elastic for about 3 minutes. The mash should form long, stretchy strands when you lift it from the pot.
Season with salt. The mash should be thick, but if it's too thick, work in additional cream in small amounts.
Tips
Mushrooms: Button mushrooms work really well in this recipe. You can also use cremini mushrooms.
Thyme: Fresh thyme is amazing here, but if you only have dried thyme, use ¼ teaspoon.
White Wine: Chardonnay and Sauvignon Blanc both work really well. If you'd like to skip the wine, substitute it with stock.
Out of cream? Make your mushroom sauce with 1 cup of Canadian milk whisked with a tablespoon of cornstarch. Add it to the sauce and keep stirring it till the sauce thickens. Thin it out with stock as required.
Parmesan: Only use freshly grated parmesan because pre-grated parmesan doesn't melt and thicken well. If you don't have access to parmesan, use Canadian cream cheese instead.