Stove-Top Macaroni and Cheese
This recipe is taken from the 1995 Milk Calendar. This is the Stove-Top Macaroni and Cheese recipe.
Prep: 10 min
Cooking: 15 min
Yields 4 servings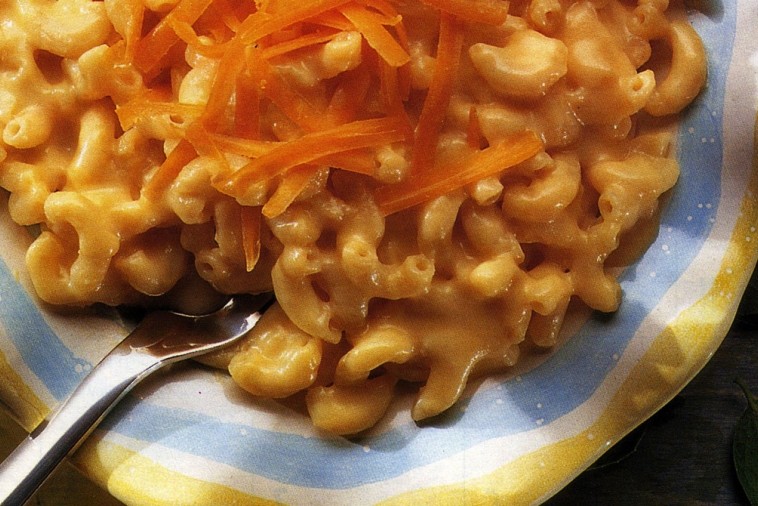 Ingredients
1/2 lb (225 g) elbow macaroni (approx 2 cups/500 mL)
1 1/2 cups (375 mL) Milk
3 cups (750 mL) Canadian Medium Cheddar grated or diced
2 eggs
1 tbsp (15 mL) all-purpose flour
2 tbsp (30 mL) butter
1/4 tsp (1 mL) dry mustard powder
1/4 tsp (1 mL) pepper
Pinch of ground nutmeg - optional
Dash of Worcestershire Sauce - optional
Dash of Tabasco sauce - optional
Preparation
In a large pot of boiling, salted water, cook macaroni according to package directions until just tender but firm. Drain well.
Meanwhile, combine milk, Canadian Cheddar, eggs, flour, butter, mustard and pepper in a food processor or blender. Process until blended.
Return macaroni to the pot. Add cheese sauce. Cook gently, stirring constantly, until mixture is creamy, smooth and thick - 3 to 5 min. Season to taste with nutmeg, Worcestershire and Tabasco, if desired. Serve immediately.
Tips