This recipe is taken from the 1995 Milk Calendar. This is the Sweet and Sour Meatballs recipe.
Prep: 10 min - 15 min
Cooking: 1 h
Yields 4 - 6 servings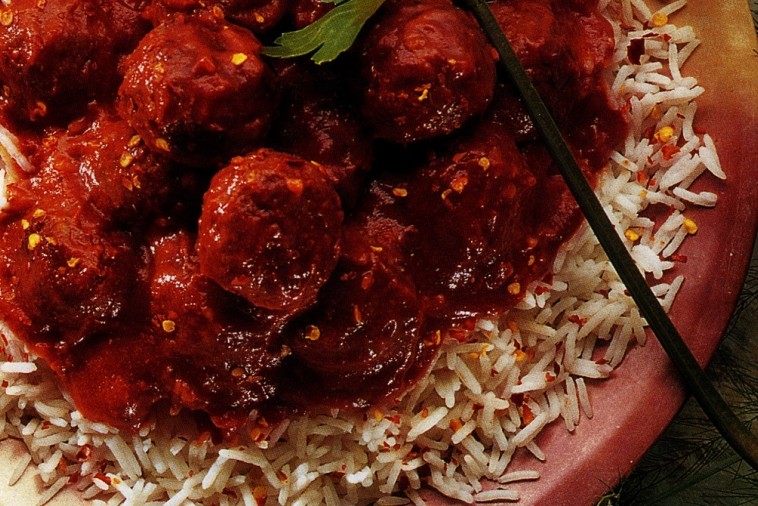 Ingredients
Meatballs
1 lb (450 g) lean ground beef
1 garlic clove minced
1 egg lightly beaten
1/4 cup (60 mL) bread crumbs
1/4 cup (60 mL) Milk
1 tsp (5 mL) salt
1/4 tsp (1 mL) pepper
Sweet and Sour Sauce
1 tbsp (15 mL) vegetable oil
1 garlic clove minced
1 tbsp (15 mL) fresh ginger grated or finely chopped
2 cups (500 mL) ketchup
1 cup (250 mL) ginger ale
of hot red chili flakes - optional
3 tbsp (45 mL) sugar
1 tbsp (15 mL) soy sauce
1 cup (250 mL) Milk
Preparation
Meatballs:
Combine ground beef with garlic, egg, bread crumbs, milk, salt and pepper. Shape into 1-inch (2 1/2 cm) balls. Reserve.Sweet and Sour Sauce:Heat oil in large saucepan. Add garlic and ginger. Cook 1 to 2 min until fragrant but don't brown. Add ketchup, ginger ale, hot chili flakes, sugar and soy sauce. Bring to a boil. Add milk. Heat thoroughly. Sauce may look separated.
Bring sauce to a boil and add meatballs. Reduce heat. Cook gently, uncovered, for 1 hr until meatballs are tender and sauce is thick. Serve over rice.
Tips
Learn more about