Tarte Tatin with Le Gré des Champs Cheese
This is the Tarte Tatin with Le Gré des Champs Cheese recipe.
Prep: 15 min
Cooking: 30 min - 35 min
Yields 6 - 8 servings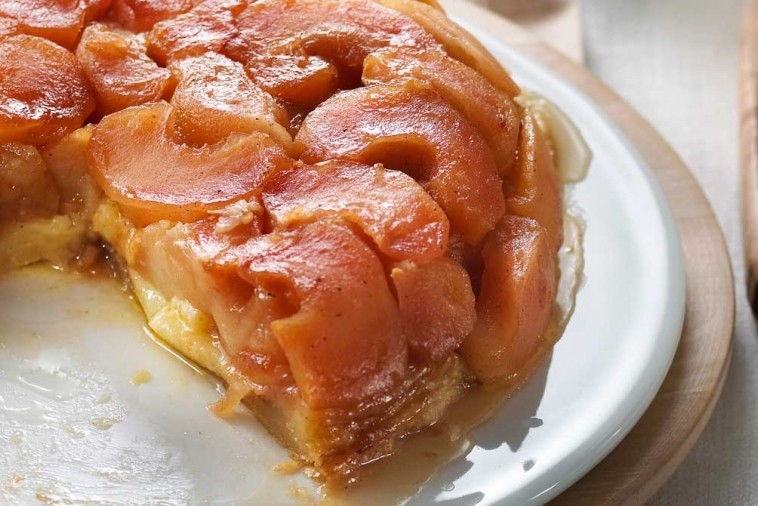 Ingredients
3 tbsp (45 mL) unsalted butter
10 to 12 apples (Cortland, Golden Delicious, Empire, Royal Gala or Granny Smith) quartered
1/2 cup (125 mL) sugar
5 oz (150 g) Canadian Le Gré des champs cheese sliced
7 oz (200 g) store-bought puff pastry thawed
Preparation
Preheat oven to 375 °F (190 °C).
In a large ovenproof skillet, melt the butter over a medium high heat and cook the apple quarters for 4 to 5 minutes until golden. Add sugar and let it melt. Continue cooking until the sugar has caramelised and coated the apples. Remove from heat.
Meanwhile, roll out the puff pastry on a floured surface to 1/4-inch (1/2 cm) thickness.
Arrange the cheese over the apples and cover with puff pastry. Cook in centre of oven for 25 to 30 minutes until pastry is puffed up and golden. Leave tart to cool completely before turning out. Place a plate over tart, then quickly flip over. Remove frying pan and rearrange apples if necessary.
Tips
Try this recipe with Canadian Fin Renard or La Tomme du Champs Doré.
Learn more about