This recipe is taken from the 1995 Milk Calendar. This is the Tortellini Casserole recipe.
Prep: 15 min
Cooking: 30 min
Yields 4 - 6 servings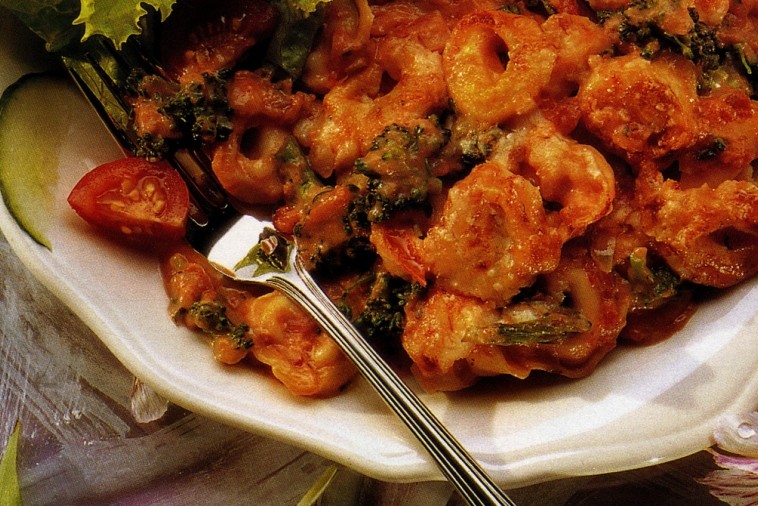 Ingredients
1/4 cup (60 mL) butter
2 garlic cloves minced
1 small onion finely chopped
1/4 cup (60 mL) all-purpose flour
2 cups (500 mL) Milk
1 cup (250 mL) canned puréed tomatoes or tomato sauce
1 tbsp (15 mL) tomato paste
1/2 tsp (2 mL) dried thyme
1/2 tsp (2 mL) dried basil
1/2 tsp (2 mL) dried oregano
1 tsp (5 mL) salt
1/2 tsp (2 mL) pepper
1 lb (450 g) meat or cheese tortellini
1 bunch broccoli trimmed and cut into chunks
2 cups (500 mL) shredded Canadian Cheddar cheese
1/2 cup (125 mL) grated Canadian Parmesan cheese
Preparation
Melt butter in a large saucepan. Add garlic and onion. Cook gently 3 to 4 min until fragrant and tender. Sprinkle with flour. Cook 3 to 4 min longer but do not brown.
Whisk in milk. Bring to a boil. Add tomatoes, tomato paste, herbs, salt and pepper. Cook 5 min. Taste and adjust seasoning, if necessary.
Meanwhile, cook tortellini in a large pot of boiling, salted water for 3 min. Add broccoli and continue to cook for 5 min longer. Drain well.
Combine drained tortellini mixture with sauce. Add Canadian Cheddar cheese. Transfer to a 12-cup (3 L) baking dish. Sprinkle with grated Canadian Parmesan. Bake in a preheated 350 °F (180 °C) oven for 30 min or until hot and lightly browned.
Tips