Veal Paupiettes with Canadian Mozzarella and Garden-Fresh Tomatoes
This is the Veal Paupiettes with Canadian Mozzarella and Garden-Fresh Tomatoes recipe.
Prep: 30 min
Cooking: 7 min
Yields 4 servings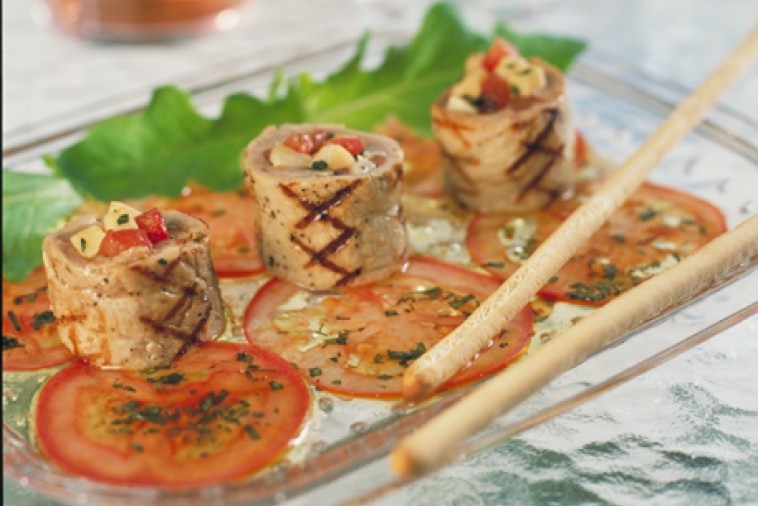 Ingredients
4 veal cutlets (about 12 oz/350 g)
Salt and pepper to taste
4 oz (120 g) Canadian Mozzarella cheese
2 large tomatoes in small cubes
Marinade
1/4 cup (60 mL) olive oil
2 tbsp (30 mL) balsamic vinegar
2 tbsp (30 mL) chives snipped
1 tbsp (15 mL) basil chopped
2 tsp (10 mL) tarragon chopped
1/4 tsp (1 mL) salt
Pepper to taste
Preparation
Place each cutlet between two sheets of plastic wrap and flatten it out with a rolling pin. Set aside.
Stem and quarter the tomatoes. Remove the cores and the seeds. Cut the flesh into small cubes. Place in small sieve to allow the juice to drain away.
Cut the Canadian Mozzarella into slices and then into small cubes. Put the cheese and tomato cubes into a bowl.
In another bowl, mix all the marinade ingredients. Use about half, 4 tbsp (60 mL) to season the tomato and cheese cubes. Reserve the rest of the marinade.
Place the 4 cutlets on a worktop and season with salt and pepper.
Divide the tomato and cheese mixture between the 4 cutlets and roll them up, making sure that the stuffing does not come out the sides.
Place the 4 veal paupiettes on the barbecue and grill the 4 sides for a total of 7 minutes. Slice each veal paupiettes into 3.
Tips
Presentation suggestion: Slice some tomatoes finely and lay them on each plate. Season with the rest of the marinade and place the veal olive slices on the tomatoes. This dish can be accompanied with grissini (bread sticks) or grilled focaccia bread.
Learn more about