Velvety Chocolate Cheesecake Squares (Cooking Club Size)
This is the Velvety Chocolate Cheesecake Squares (Cooking Club Size) recipe.
Prep: 30 min
Cooking: 40 min - 45 min
Refrigeration: 3 h
Yields 32 - 48 squares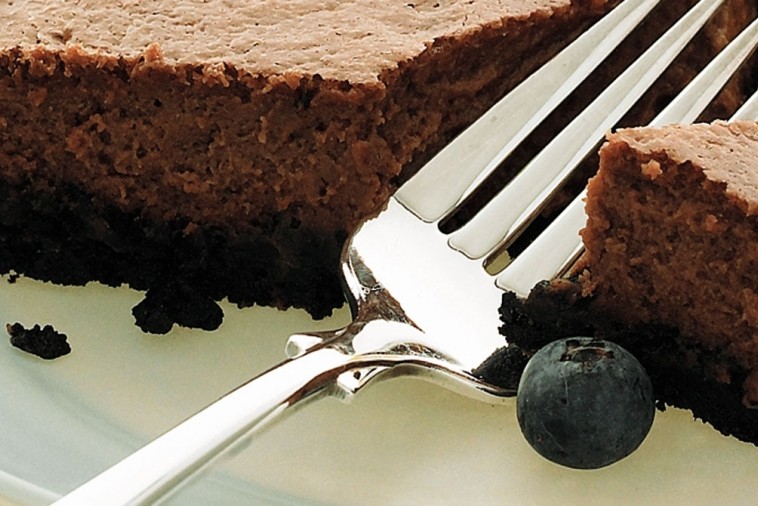 Ingredients
4 1/2 cups (1.125 L) chocolate cookie crumbs
2/3 cup (160 mL) butter melted
1/2 cup (125 mL) corn syrup
1 1/2 cups (375 mL) semi sweet chocolate chips
2/3 cups (160 mL) cornstarch
1/2 cup (125 mL) cocoa powder
2 1/2 cups (625 mL) Milk
4 pkgs (8 oz/240 g each) light or regular Canadian Cream cheese softened
2 cups (500 mL) sugar
4 eggs
Preparation
Preheat oven to 325 °F (160 °C). Line two, 13 x 9-inch (33 x 23 cm) metal baking pans with foil, leaving 2 inches (5 cm) overhang at each end.
In bowl, combine chocolate crumbs, butter and corn syrup until blended; press into prepared pan. Bake for about 10 min or until puffed and bubbling, rotating halfway. Set aside.
Meanwhile, in microwave-safe bowl, microwave chocolate chips for 2 to 3 minutes on Medium (50 %) power, stirring twice, until chips are melted. Set aside. In separate large bowl, whisk together cornstarch and cocoa; gradually whisk in milk until blended. Set aside.
In large bowl, using electric mixer, beat cream cheese with sugar until smooth. Beat in eggs, one at a time, just until blended. Beat in milk mixture, then melted chocolate until blended.
Pour over baked crusts. Bake for 40 to 45 min or until edges are puffed and centre has a slight jiggle. Let cool completely in pan on rack. Refrigerate until cold, for at least 2 hours or up to 2 days. Remove from pan using foil overhang as handles. Cut into squares using a hot knife.
Tips
Instead of using microwave to melt chocolate chips, place chocolate chips in a heat-proof bowl set over a saucepan of hot, not boiling, water and heat gently until chips are melted. Stir until smooth.
Cooking Club Tips:These cheesecake squares once thoroughly chilled, can be wrapped and frozen for up to 3 months. Serve as snack-sized squares or enjoy as a dessert garnished with fresh fruit.
Mocha Latté Cheesecake Squares: Add 2 tbsp (30 mL) instant coffee granules and 1 tbsp (15 mL) vanilla with milk and cocoa. Bake as directed. Just before serving, whip 2 cups (500 mL) 35 % cream with 2 tbsp (30 mL) icing sugar to soft peaks. Dollop on top of squares and serve sprinkled with cocoa powder or cinnamon.