Dairy Farmers of Canada named one of Ottawa's top employers
This highly competitive designation shines a light on how DFC supports the organization's employees and attracts top talent
February 8, 2023 (Ottawa, ON) – Dairy Farmers of Canada (DFC) has been named one of the Top Employers in Canada's National Capital Region. This annual competition, announced jointly by the editors of Canada's Top 100 Employers and the Ottawa Citizen, recognizes companies in the Ottawa metropolitan area that lead their industries in offering exceptional places to work. The highly competitive designation shines a light on how DFC supports the organization's employees and attracts top talent.
"As an employer, we live in a highly competitive environment in the recruitment and retention of top talent. This designation validates the efforts from the leadership team and our People & Culture staff as we strive to offer our employees, current and future, an environment that is both supportive and flexible to accommodate their numerous responsibilities," said Jacques Lefebvre, CEO of Dairy Farmers of Canada.
DFC was selected as one of National Capital Region's Top Employers for 2023 based on a number of variables including staff benefits (competitive compensation and health coverage), maternity/paternity leave, a hybrid work environment, training and professional development, plus other programs to support employee health and wellbeing.
"Beyond our programs, our people managers are committed to creating the conditions, and supporting our employees to do what they do best. This is a distinguishing feature of working at Dairy Farmers of Canada," added Lefebvre.
To learn more about DFC's recognition as one of Ottawa's top employers, please visit https://reviews.canadastop100.com/top-employer-dairy-farmers-of-canada.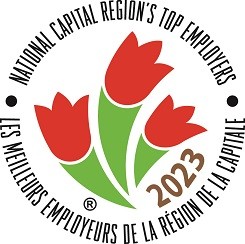 About Dairy Farmers of Canada
Dairy Farmers of Canada is the national policy, lobbying and promotional organization representing Canadian dairy producers. DFC strives to create stable conditions for the dairy sector in our country. It also seeks to maintain policies that promote the sustainability of Canadian dairy production and promote dairy products and their health benefits. Dairy farmers have set a goal of net-zero emissions from farm-level dairy production by 2050.
Media Contact
Lucie Boileau, Director of Communications,
Dairy Farmers of Canada
[email protected] / 613-220-1724