This Annual Report provides an overview of some of the activities and achievement of the organization over the past year, from July 2016 to July 2017.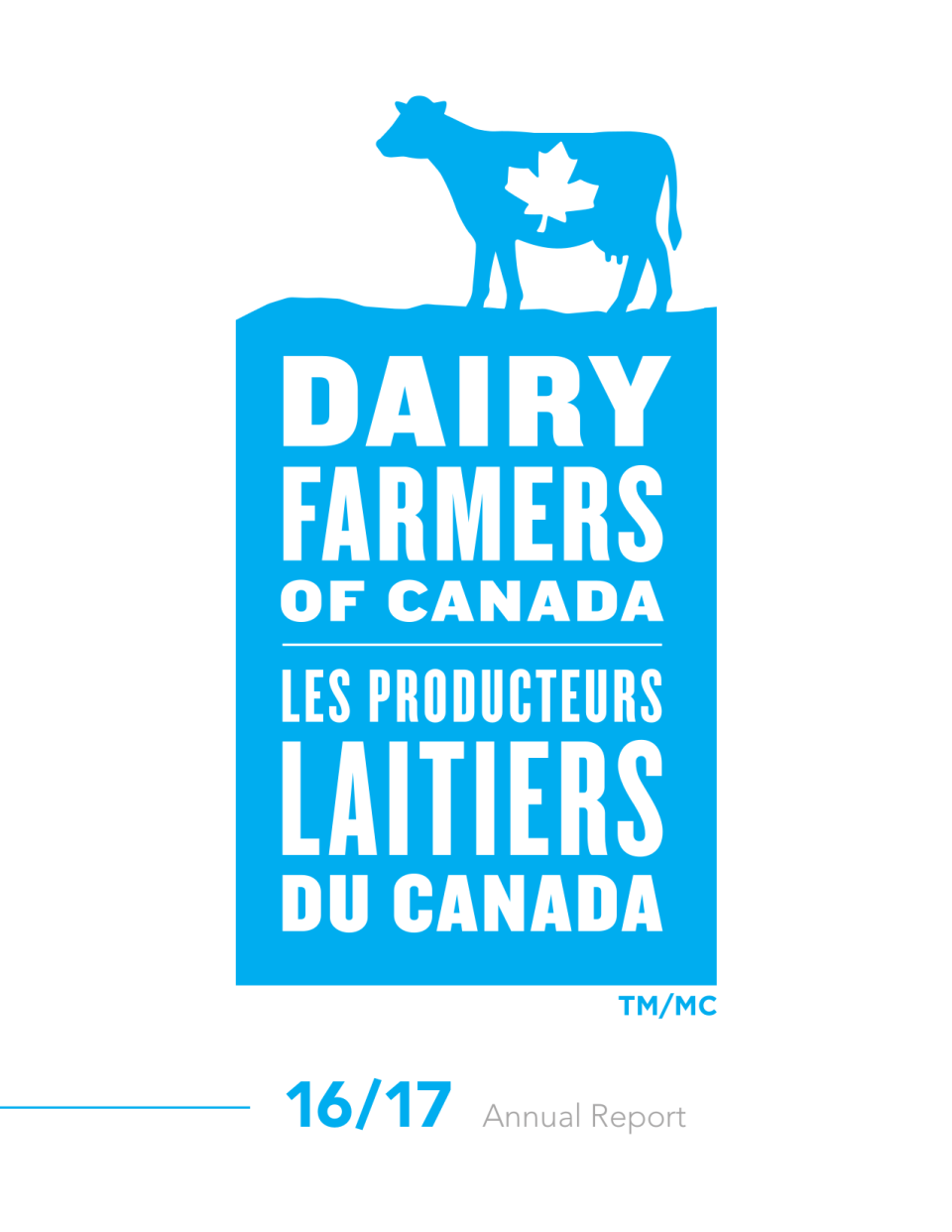 Highlights from 2016-2017
In 2016, Dairy Farmers of Canada (DFC) reviewed and refined the organization's mandate. As a result, the mission, vision and values were also revised to more accurately capture Dairy Farmers of Canada's mandate.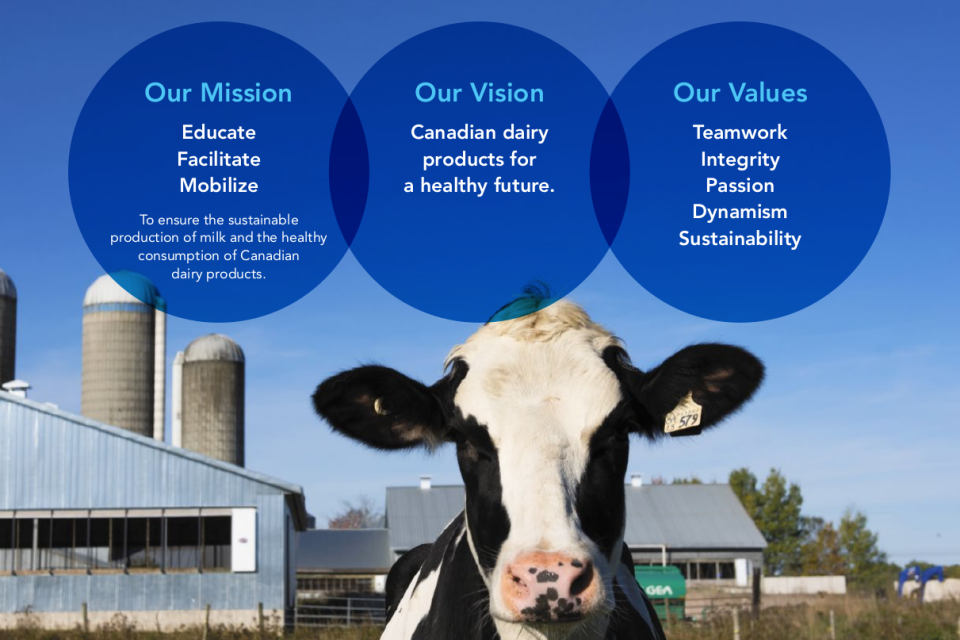 Our Mandate
To enhance the revenue and image of the Canadian dairy farmer and contribute to the growth of the Canadian dairy market.
We will:
Be the voice of all Canadian dairy farmers on the national and international level.
Lead (in collaboration with members) the development of national dairy position statements and advocate for dairy related policies and regulations.
Develop, implement and administer designated programs and strategies on marketing, nutrition, policy, communication and government relations.
Maintain strong and united support for a national system of supply management.
Be a credible source of information on dairy related issues and initiatives.
Support research in dairy production and nutrition.
Priorities 2016-17
In support of Dairy Farmers of Canada's Business Plan 2017–2020, a strategic plan is developed each year to ensure the organization remains on track for achieving its stated objectives. Dairy Farmers of Canada's management team produced and presented the 2017 Strategic Plan to the Board of Directors for approval before finalizing it at the annual general meeting (AGM) held in Charlottetown, Prince Edward Island, in July 2016.
Focusing on the year ahead, the 2017 Strategic Plan outlined four key pillars in support of its overall objective:
Contribute to the growth of the industry and profitability of the farmers
Dairy Farmers of Canada adopted a four-prong approach to ensure this objective was achieved. These pillars include:
Creating an environment that supports Canadian dairy farmers and dairy products, while being socially responsible. Dairy Farmers of Canada is committed to educating Canadians about dairy farming and dairy products, engaging and mobilizing dairy farmers' supporters and industry stakeholders, while maintaining strong relationships with decision-makers.
Ensuring cohesion in terms of strategies, messages and actions with the members of the organization and among all industry partners. In collaboration with its members, Dairy Farmers of Canada will develop national strategies and common messages. It will also foster collaborations with both the Canadian Dairy Commission (CDC), and processors, to contribute to the growth of the dairy sector and profitability for farmers.
Demonstrating the value of Canadian dairy farmers and their products to Canadians. Dairy Farmers of Canada is committed to educating consumers, health and education professionals, opinion leaders and decision makers on the nutritional value of dairy. Dairy Farmers of Canada will also tell the story behind milk.
Being an effective organization, through:

Accountability
Transparency
Collaboration
Continuous improvement
Individual Departmental Work Plans were also developed by the communications and government relations, policy and international trade, strategic partnerships, nutrition, and marketing teams which serve as a roadmap for each group for the year ahead. The goals outlined in each of these plans reinforce and contribute to Dairy Farmers of Canada's strategic objectives. The 2016‑17 Annual Report summarizes and provides accountability for the initiatives outlined in these plans and accomplished over the previous year.
As Dairy Farmers of Canada achieves the goals set out in a given year's strategic plan, it begins the process of outlining the vision for the year ahead. To this end, the 2018 Strategic Plan has been developed and will be presented for approval at Dairy Farmers of Canada's AGM in Edmonton, Alberta in July 2017.
Download the complete annual report

English
January, 2017
pdf (4.87 MB)
download

French
January, 2017
pdf (4.95 MB)
download