BBQ Steamed Asian Mussels
This is the BBQ Steamed Asian Mussels recipe.
Prep: 20 min
Cooking: 10 min - 12 min
Yields 4 servings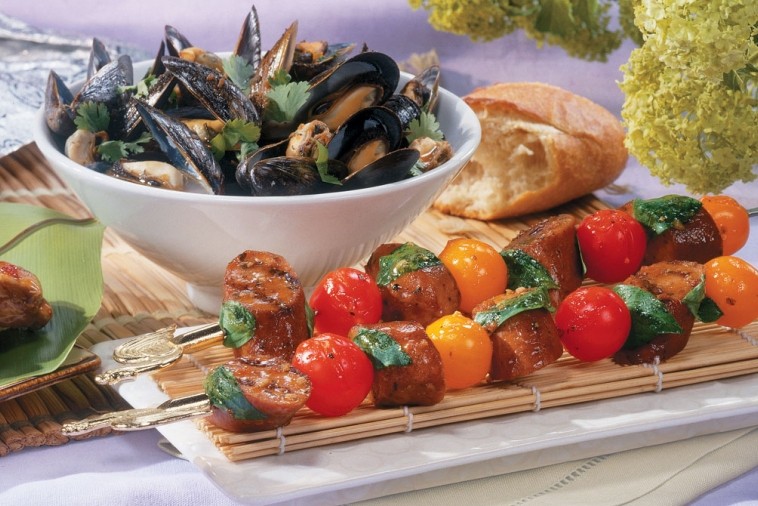 Ingredients
2 lbs (1 Kg) fresh mussels
1/4 cup (60 mL) butter melted
1 tbsp (15 mL) all-purpose flour
1/4 cup (60 mL) teriyaki sauce
1/4 cup (60 mL) bottled herb BBQ sauce
1/4 cup (60 mL) white wine
1/4 cup (60 mL) finely chopped shallots or onions
1 tbsp (15 mL) lime juice
2 garlic cloves minced
2 tbsp (30 mL) chopped fresh coriander (optional)
Crusty bread
Preparation
Preheat grill to medium-high. Scrub and debeard mussels, discarding any that don't close when tapped.
Blend butter with flour until smooth. Combine butter mixture with wine, teriyaki sauce, shallots, lime juice and garlic. Take a rectangle of heavy-duty foil and seal on three sides to form a bag (or use a pre-prepared 'hot bag'). Put sauce and mussels into the bag and seal tightly.
Slide bag onto grill and cook, turning and rotating bag occasionally, for 10 to 12 minutes or until mussels open. Discard any unopened mussels.
Serve mussels with cooking juices in bowls. Sprinkle with coriander, if desired, and serve with bread.
Tips
Learn more about
Nutrition
Nutritional Information
per serving
Energy:

532 Calories

Protein:

60 g

Carbohydrate:

21 g

Fat:

21 g

Calcium:

9 % /

91 mg

Fibre:

0.3 g

Sodium:

1023 mg