This is the Buttertart Pie recipe.
Prep: 20 min - 25 min
Cooking: 55 min - 1 h
Refrigeration: 15 min
Yields 10 servings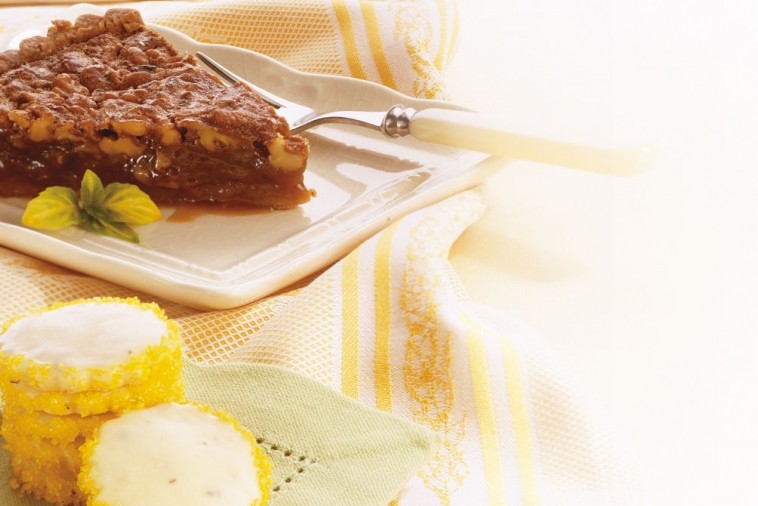 Ingredients
Pastry
1 1/4 cups (310 mL) all-purpose flour
1/2 cup (125 mL) ground walnuts
2 tbsp (30 mL) brown sugar
1/4 tsp (1 mL) salt
3/4 cup (180 mL) cold butter cubed
1 egg yolk
2 tbsp (30 mL) water
Filling
1 cup (250 mL) dark brown sugar lightly packed
2 tsp (10 mL) cornstarch
4 eggs
1 cup (250 mL) corn syrup
1/4 cup (60 mL) butter softened
2 tsp (10 mL) vanilla extract
1 1/2 cups (375 mL) chopped walnuts
Preparation
Pastry:
In the bowl of a food processor fitted with a metal blade, pulse to combine the flour, walnuts, brown sugar and salt. Add butter and pulse until mixture resembles coarse crumbs. Whisk egg yolk with water and, with motor running, pour into flour mixture. Blend for 10 seconds.
Press dough into a 2-inch (5 cm) deep, 8-inch (20 cm) tart pan with a removable bottom, or a deep-dish 9-inch (23 cm) glass pie plate. Refrigerate for 15 minutes. Preheat oven to 375 °F (190 °C).
Filling:
Combine sugar with cornstarch. Beat eggs in a large bowl until pale and fluffy. Beat in the sugar mixture, corn syrup, butter and vanilla extract. Sprinkle walnuts over prepared pastry. Spoon filling evenly over top. Place a sheet of aluminium foil on the lower oven rack. Place the tart on foil and bake for 55 to 60 minutes or until crust is golden and centre is slightly jiggly. Cool before slicing.
Tips
Spoon any liquid that seeps from tart when it is sliced over each portion.
Learn more about