Canadian Brie Wrapped in Grape Leaves with Exotic Grain Salad
This is the Canadian Brie Wrapped in Grape Leaves with Exotic Grain Salad recipe.
Prep: 15 min
Cooking: 45 min
Yields 4 servings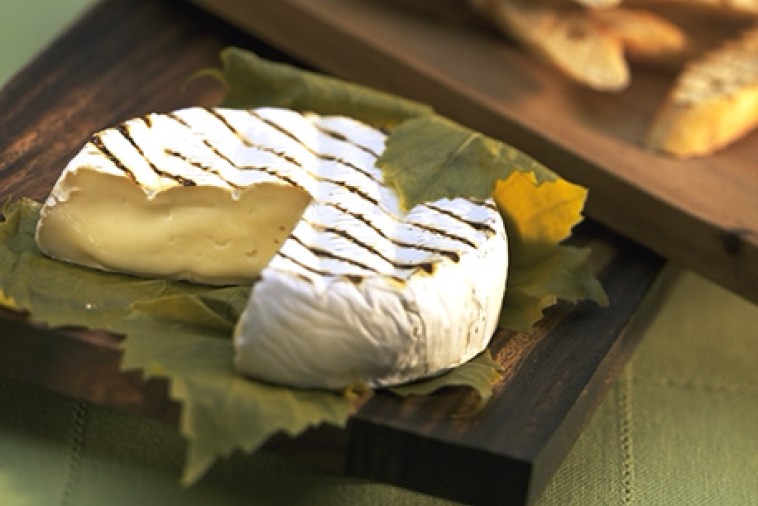 Ingredients
1 (7 oz/ 200 g) Canadian Brie
4 grape leaves stem removed
2 tbsp (30 mL) olive oil
Exotic grain salad
1/2 cup (125 mL) pearl barley
1 cup (250 mL) water
1/3 cup (80 mL) wild rice
1 1/2 cup (375 mL) water
1/2 cup (125 mL) of corn kernels
1 tomato peeled, diced
1 lemon juice only
1 tbsp (15 mL) chopped fresh mint
1/4 cup (60 mL) olive oil
Small pinch of salt
Preparation
Salad:
In a pot, put the barley with the cup of water and salt. Cook for 20 minutes or until tender.
In another pot, add the wild rice with and the 1 1/2 cups (375 mL) of water and salt. Cook on medium heat until tender for approx. 40 minutes.
Drain the barley and wild rice and place in a bowl. Add the tomato, corn kernels, lemon juice, olive oil and mint. Season with salt and pepper.
Wrapped Canadian Brie
:Rub the wheel of Canadian Brie with 1 tbsp (15 mL) of olive oil. Place on your well heated BBQ for 30 seconds on each side. Remove.
Place 4 grape leaves in a circle, overlapping each other. Be sure the bottom is sealed properly. Place your Brie in the center and wrap it completely with the leaves. To secure, place toothpicks through the grape leaves and the Brie.
Return to the coolest part of the BBQ for 1 minute to melt slightly.
To serve, either unfold the grapes leaves or simply cut a wedge out and present with the salad.
Chef Caroline McCann Bizjak
Tips
Look for canned grape leaves at the supermarket (rinse well in cold water before using).
If you cannot find grape leaves, try wrapping the Brie in kale leaves or corn husks (blanch them first in boiling water to make them more flexible).
Learn more about