Canadian Cheddar Cheese Soup
This is the Canadian Cheddar Cheese Soup recipe.
Prep: 10 min
Cooking: 10 min
Yields 4 servings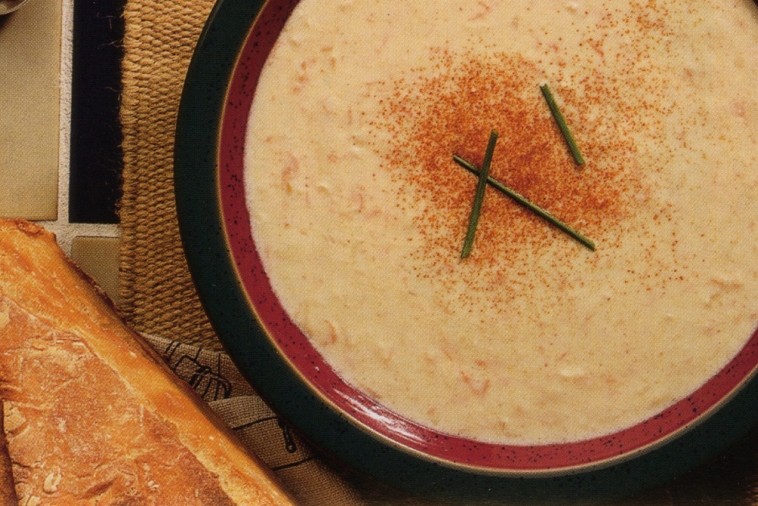 Ingredients
3 tbsp (45 mL) butter
1/4 cup (60 mL) finely chopped onion
1/4 cup (60 mL) finely grated carrot
1/4 cup (60 mL) all-purpose flour
1 tbsp (15 mL) chicken broth mix
1/2 tsp (2 mL) paprika
1/2 tsp (2 mL) dry mustard
4 cups (1 L) Milk
2 cups (500 mL) shredded Canadian Cheddar cheese
Paprika to taste
Preparation
In medium saucepan, melt butter. Sauté onion and carrot until tender. Blend in flour, broth mix, paprika and mustard. Gradually stir in milk. Cook and stir over medium heat until mixture boils and thickens.
Remove from heat, add Canadian Cheddar cheese and stir until cheese is melted. Sprinkle each portion with more paprika and serve.
Double Cheese Soup:
Use 1 1/2 cups (375 mL) shredded Canadian Mozzarella cheese and 1/2 cup (125 mL) grated Canadian Parmesan instead of Canadian Cheddar.
Great Gouda Soup:
Use shredded Canadian Gouda cheese instead of Canadian Cheddar.
Tips
Nutrition
Nutritional Information
per serving
Energy:

515 Calories

Protein:

25 g

Carbohydrate:

20 g

Fat:

38 g

Calcium:

62 % /

678 mg