This is the Carrot Hermits recipe.
Prep: 10 min
Cooking: 10 min - 12 min
Yields 18 cookies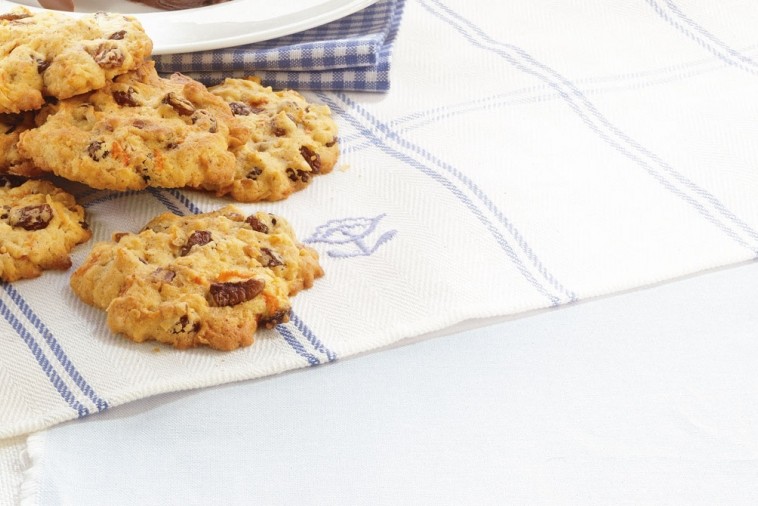 Ingredients
1/2 cup (125 mL) butter softened
1/2 cup (125 mL) brown sugar lightly packed
1 egg
1 tsp (5 mL) vanilla extract
3/4 cup (180 mL) grated carrot
1/2 cup (125 mL) shredded coconut
1 1/4 cups (310 mL) all-purpose flour
1/2 tsp (2 mL) baking powder
1/2 tsp (2 mL) salt
1/2 tsp (2 mL) ground cinnamon
1/4 tsp (1 mL) ground nutmeg
of ground clove
3/4 cup (180 mL) raisins
3/4 cup (180 mL) chopped pecans
Preparation
Preheat oven to 350 °F (180 °C).
Blend butter with brown sugar until fluffy. Beat in egg. Stir in vanilla, carrot and coconut. Add flour, baking powder, salt, cinnamon, nutmeg and cloves. Stir in raisins and pecans.
Line baking sheets with parchment paper. Drop large spoonfuls of dough onto baking sheets. Bake for 10 to 12 minutes or until browned.
Tips
Tip: Grate carrots coarsely for a chunkier cookie or use a fine grater for a cakier cookie.
Learn more about
Nutrition
Nutritional Information
per serving
Energy:

142 Calories

Protein:

2 g

Carbohydrate:

20 g

Fat:

27 g

Calcium:

2 % /

16 mg

Fibre:

1 g

Sodium:

129 mg