This is the Cheddar Granola Cookies recipe.
Prep: 15 min
Cooking: 10 min
Yields 60 cookies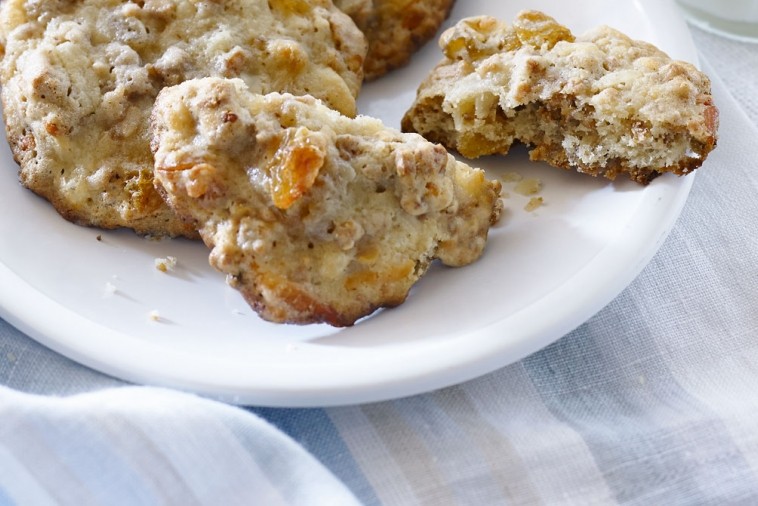 Ingredients
3/4 cup (180 mL) all-purpose flour
1/2 cup (125 mL) whole wheat flour
1 tsp (5 mL) each baking soda
salt
1/2 cup (125 mL) butter softened
1/2 cup (125 mL) sugar
1/3 cup (80 mL) liquid honey
2 eggs
2 cups (500 mL) granola
2 cups (500 mL) shredded Canadian Cheddar cheese
1 1/2 cups (375 mL) golden raisins
Preparation
Preheat oven to 350 °F (180 °C).
In medium bowl, stir together all-purpose flour, whole wheat flour, baking soda and salt.
In large mixer bowl, cream butter until light and fluffy; gradually beat in sugar and honey. Add eggs, one at a time, beating well after each addition. Stir in dry ingredients, granola, Canadian Cheddar cheese and raisins; mix well (batter should be stiff).
Drop tablespoons (15 mL) of batter, 1 dozen at a time, about 2 inches (5 cm) apart, onto ungreased baking sheets. With floured fingers, pat into 2 inch (5 cm) circles.
Bake 10 minutes or until lightly browned. Remove from baking sheets immediately; let cool on wire racks.
Tips
To store, place soft cookies in a container with a tight fitting lid; place crisp cookies in a container with a loose fitting lid. Do not store soft and crisp cookies together.