Looking for an easy dessert recipe that doesn't require any special artistic talent to whip up but will taste so delicious everyone will come back from more? Introducing the fruit crumble. Not only is the combination of oven-baked oats, sugar, flour and Canadian butter that tops this easy dessert recipe absolutely irresistible, but it also effortlessly turns it into a beautiful (and so appetizing) golden treat—no decorating or icing required. Mix, spread, bake: you're done. Easy as (crumble) pie!

While you might be used to hearty apple crumbles, this tasty Cherry-Lemon Crumble Pie is full of bright flavours, with sweet cherry and slightly tart lemon notes. Its lovely colours, its fresh taste and its crunchy crumble are guaranteed to charm your tastebuds.
Prep: 40 minutes
Cooking: 40 - 45 minutes
Yields 10 - 12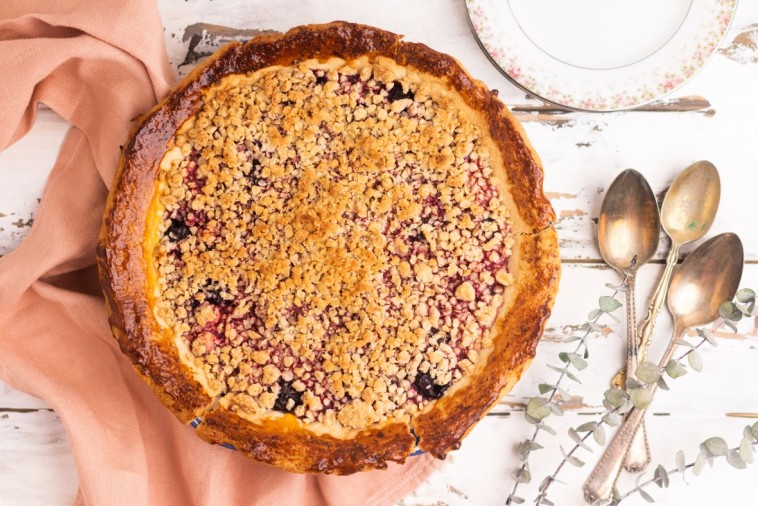 Ingredients
Crust
500 ml (2 cups) all-purpose flour
15 ml (1 tbsp) sugar
Pinch of salt
180 ml (¾ cup) cold unsalted Canadian butter, cut into cubes
45 ml (3 tbsp) cold water
Filling
1L (4 cups) Canadian cherries (frozen or fresh)
125 ml (½ cup) granulated sugar
75 ml (5 tbsp) corn starch
Juice of a lemon, around 45 ml (3 tbsp)
Zest of half a lemon
Crumble
180 ml (¾ cup) quick oats
125 ml (½ cup) all-purpose flour
80 ml (⅓ cup) granulated sugar
60 ml (¼ cup) unsalted Canadian butter, melted
Zest of half a lemon
1 egg yolk
Topping
Canadian ice cream, vanilla (if desired)
DID YOU KNOW?
When you see the Blue Cow Logo on a product, it means it's made with 100% Canadian quality milk.
LEARN MORE
Preparation
In a food processor, combine flour, sugar and salt. While mixing, add cold butter cubes gradually. Add water, one tablespoon at a time until a ball of dough forms.
Place the dough on a lightly floured surface and roll it until it forms a perfectly round sphere. Cover with plastic wrap and refrigerate for 30 minutes.
In a bowl, combine the filling ingredients until evenly mixed. In another bowl, combine the crumble ingredients.
Preheat oven to 375 °F. On a floured surface, using a rolling pin, roll out the pie dough into a circle slightly bigger than your pan. Spread the dough onto the pan and trim off the excess around the edge.
Fill the pie with the filling. Brush the egg yolk on the crust. Spread the crumble over the cherry mixture and place in the oven for 40-45 minutes.
Serve warm, with a dollop of vanilla ice cream (if desired)
Tips
For more inspiration by Laurence Bergeron, visit her Instagram profile @libredemanger
Learn more about