Chicken and Rice Casserole with Mushrooms
This recipe is taken from the 1996 Milk Calendar. This is the Chicken and Rice Casserole with Mushrooms recipe.
Prep: 15 min
Cooking: 40 min
Yields 4 servings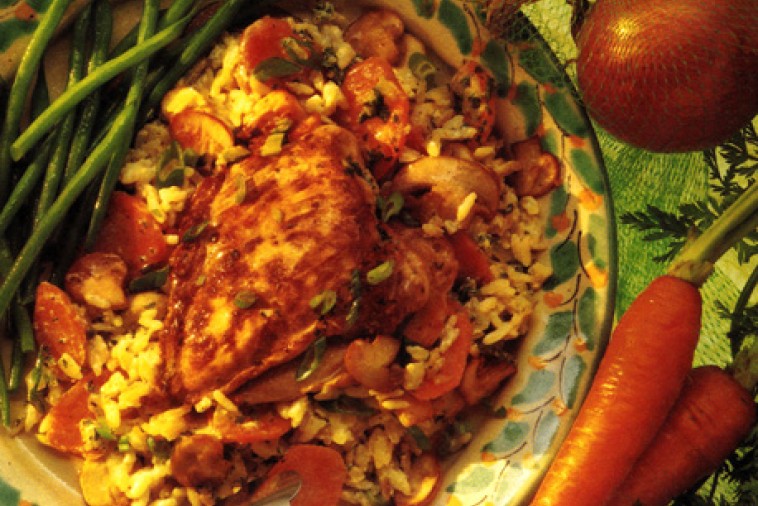 Ingredients
2 tbsp (30 mL) vegetable oil
4 chicken breasts boned and skinned
1 cups (250 mL) chopped onions
1/2 cup (125 mL) sliced carrots
2 cups (500 mL) sliced mushrooms
4 cloves garlic chopped
1 tsp (5 mL) dried thyme
1 tsp (5 mL) dried basil
1 cup (250 mL) long-grain rice
2 1/2 cups (625 mL) Milk
1 tsp (5 mL) salt
1/2 tsp (2 mL) pepper
4 tbsp (60 mL) chopped fresh parsley
2 green onions chopped
Preparation
Preheat the oven to 350 °F (180 °C).
Heat the oil in a skillet over high heat. Add the chicken breasts and brown on each side, about 3 to 4 min per side. Remove from the skillet and set aside.
In the same skillet, add the onions, carrots, mushrooms, garlic and herbs. Toss well and cook for 2 to 3 min. Add the rice and stir until the rice turns translucent. Add the milk, salt and pepper bring to a boil and pour the mixture into a 13 x 9- inch (33 x 23 cm) baking dish.
Place the chicken breasts on top of the milk mixture, sprinkle with parsley and bake for 40 min or until the rice is tender and has absorbed the milk. Serve with green onions scattered over the top.
Tips
Learn more about