Chicken in Beer with Thyme
This is the Chicken in Beer with Thyme recipe.
Prep: 15 min
Cooking: 30 min - 35 min
Yields 4 servings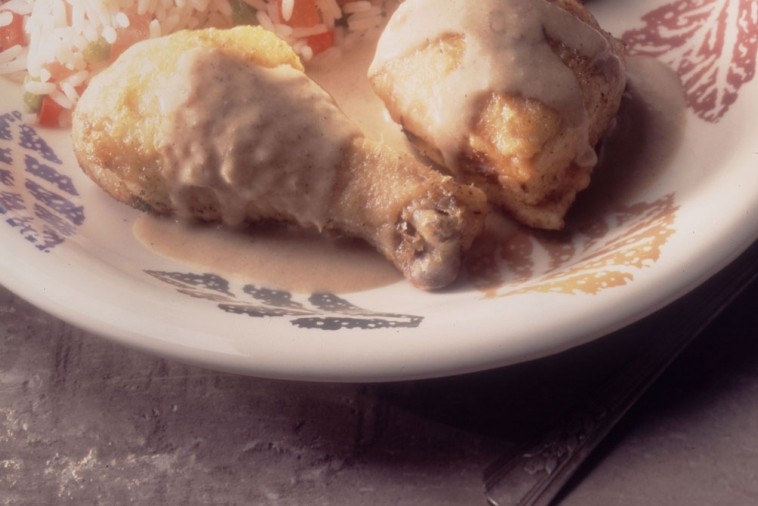 Ingredients
1 2 lb to 3 lb (1 to 1.5 kg) chicken cut into pieces
2 tbsp (30 mL) all-purpose flour
1 tbsp (15 mL) paprika
1 tbsp (15 mL) ground thyme
Salt and pepper to taste
2 tbsp (30 mL) oil
2 tbsp (30 mL) butter
1 large onion chopped
2 garlic cloves chopped
1 1/3 cup (330 mL) strong brown beer
1/3 cup (80 mL) 35 % cream
Preparation
In bowl, mix flour, paprika and thyme. Season to taste with salt and pepper. Generously coat each chicken piece with mixture.
In skillet, cook chicken in oil and butter over medium heat for 10 to 15 minutes, turning from time to time. Add onion and garlic and continue cooking for 5 minutes while stirring. Adjust seasoning and mix well. Stir in half the beer, cover and simmer over medium-low heat for 15 minutes.
Remove chicken pieces from skillet and set aside, keeping warm. Pour remaining beer in skillet while scraping bottom with spatula. Return chicken into skillet and warm for 4 minutes. Remove skillet from heat and stir in cream. Mix well and serve with cooking juice, sauté mushrooms and basmati rice.
Tips
Learn more about
Nutrition
Nutritional Information
per serving
Energy:

603 Calories

Protein:

62 g

Carbohydrate:

13 g

Fat:

30 g

Calcium:

7 % /

75 mg