This recipe is taken from the 1995 Milk Calendar. This is the Chicken À La King recipe.
Prep: 20 min
Cooking: 15 min - 20 min
Yields 6 servings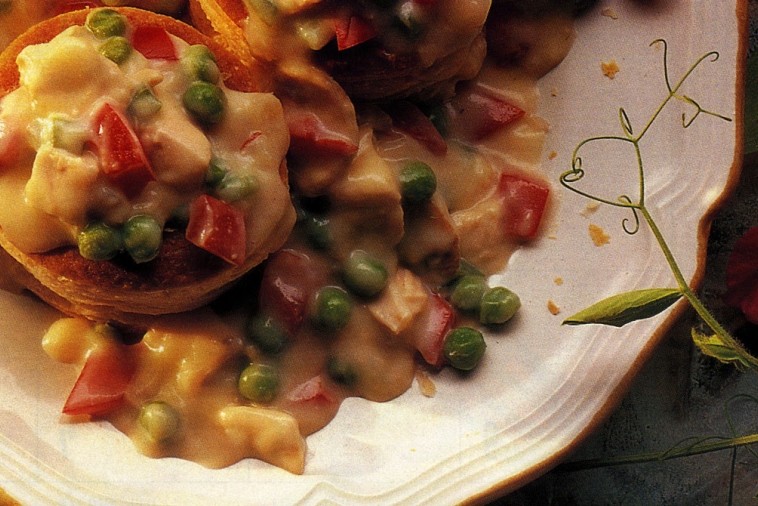 Ingredients
1/4 cup (60 mL) butter
1 onion chopped
1 green bell pepper chopped
1/4 lb (112 g) fresh mushrooms sliced
1/3 cup (80 mL) all-purpose flour
1 cup (250 mL) chicken broth
1 cup (250 mL) Milk
1 tsp (5 mL) salt
1/2 tsp (2 mL) pepper
3 cups (750 mL) cooked chicken diced
1 cup (250 mL) frozen or fresh peas
1/4 cup (60 mL) diced pimiento - optional
Preparation
Melt butter in a large saucepan. Add onion, green pepper and mushrooms. Cook 3 min until softened. Sprinkle with flour. Cook 2 min. Whisk in chicken stock and milk. Bring to a boil. Reduce heat. Cook gently 5 min.
Add salt, pepper, chicken and peas. Heat thoroughly. Stir in pimiento. Taste and adjust seasoning if necessary.
Tips
Convert this into Chicken Pot Pie by placing Chicken à la King in a 12-cup (3 L) casserole. Top with mashed potatoes, pastry or frozen puff pastry. Brush top with beaten egg and bake in a preheated 350 °F (180 °C) oven for 30 to 40 min until thoroughly hot, browned and bubbling.