Chocolate Hazelnut Butter Crisps
This is the Chocolate Hazelnut Butter Crisps recipe.
Prep: 20 min - 25 min
Cooking: 10 min
Yields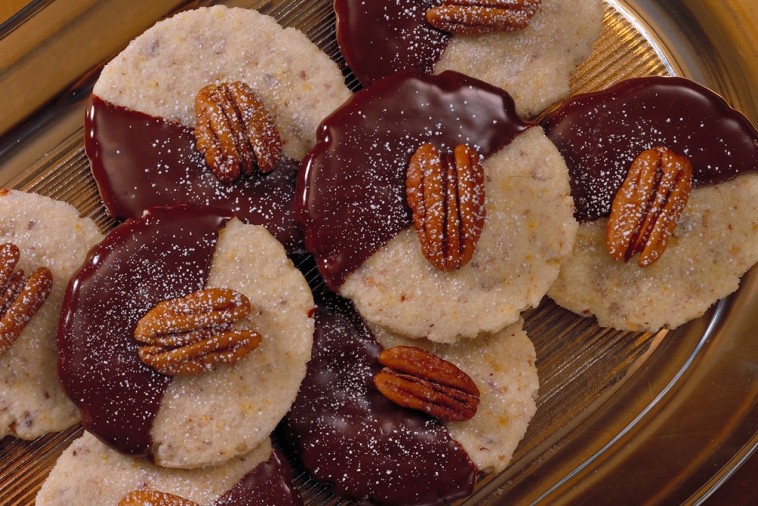 Ingredients
2 1/4 cups (560 mL) all-purpose flour
3/4 tsp (4 mL) salt
1 1/4 cups (300 mL) butter softened
1 1/3 cups (330 mL) icing sugar
2 tsp (10 mL) vanilla extract
1 cup (250 mL) ground unblanched hazelnuts toasted
Semi-sweet chocolate squares melted
Whole hazelnuts
Additional icing sugar (optional)
Preparation
Stir together flour and salt.
Cream butter; gradually beat in sugar and vanilla. Gradually add dry ingredients to creamed mixture; blend until smoothly combined. Stir in nuts.
Form dough into 1 inch (2.5 cm) balls. Place 1 dozen at a time on ungreased cookie sheet; flatten to rounds about 2 inches (5 cm) in diameter with bottom of glass dipped in flour. Bake in 325 ºF (160 ºC) oven, 10 minutes or until lightly browned. Cool.
Dip half of each cookie melted chocolate; garnish with whole hazelnuts. Let stand on wire rack until chocolate sets. Dust with icing sugar, if desired.
Tips
Learn more about