Cinnamon Crumb-Cake Muffins
This recipe is taken from the 1995 Milk Calendar. This is the Cinnamon Crumb-Cake Muffins recipe.
Prep: 10 min - 15 min
Cooking: 20 min - 25 min
Yields 12 large muffins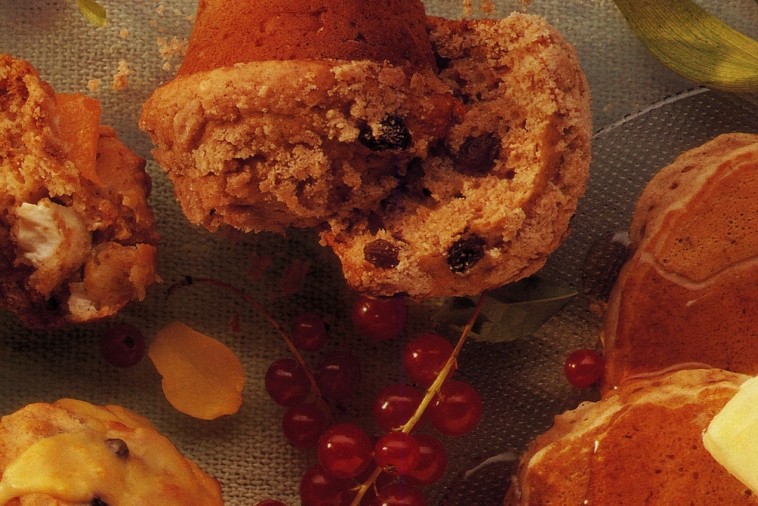 Ingredients
Topping
1/4 cup (60 mL) all-purpose flour
2 tbsp (30 mL) sugar
1/2 tsp (2 mL) ground cinnamon
2 tbsp (30 mL) butter
Muffins
1 1/3 cups (330 mL) all-purpose flour
1 cup (250 mL) whole wheat flour
1/2 cup (125 mL) brown sugar packed
1 tbsp (15 mL) baking powder
1 tbsp (15 mL) ground cinnamon
1/2 tsp (2 mL) salt
1/3 cup (80 mL) butter
2 eggs
1 1/2 cups (375 mL) Milk
1/2 cup (125 mL) raisins
Preparation
Butter 12 large muffin tins or line with paper baking cups.
Topping:
Mix flour, sugar and cinnamon in small bowl or food processor. Cut in butter using on/off motion with processor or by hand with pastry blender or two knives until butter resembles coarse crumbs. Set aside.
Muffins:
Mix flours, brown sugar, baking powder, cinnamon and salt in large bowl or food processor.
Cut in butter as above (If using food processor, transfer into large bowl.) Beat together with whisk or fork, eggs and milk until smooth. Stir into flour mixture with raisins, just until dry ingredients are moistened. Spoon into muffin cups using about 1/3 cup (80 ml) batter for each.
Sprinkle each with about 1 tbsp (15 ml) topping mixture. Bake in a preheated 400 °F (200 °C) oven 20 to 25 min or until firm to the touch. Cool in pan 5 min. Remove muffins and cool on rack. Store in airtight container.
Tips