This is the Cranberry Bars recipe.
Yields 32 bars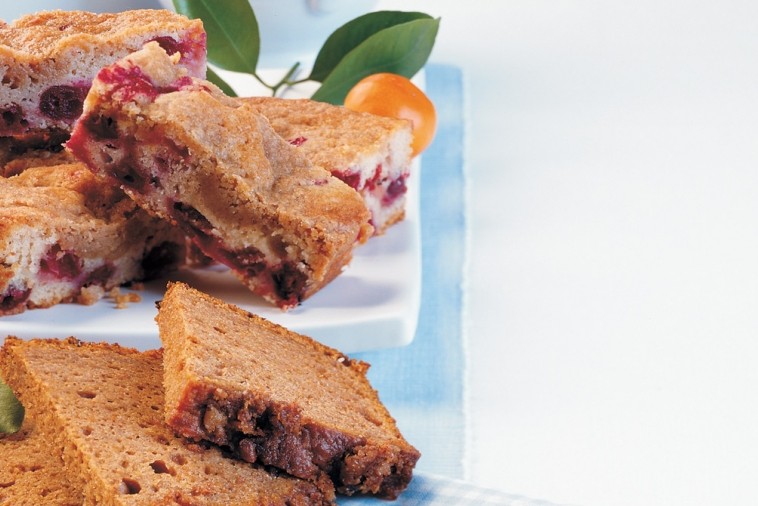 Ingredients
Topping
1/2 cup (125 mL) each Five Roses All Purpose Flour
lightly packed brown sugar
3/4 tsp (4 mL) cinnamon
1/2 cup (125 mL) cold butter cubed
Cake
3/4 cup (175 mL) butter softened
1 cup (250 mL) granulated sugar
1/2 cup (125 mL) Break-Free Liquid Eggs* well shaken
1/2 cup (125 mL) buttermilk or plain yogurt
1 tbsp (15 mL) Realemon Lemon Juice**
1 tsp (5 mL) vanilla extract
1 1/2 cups (375 mL) Five Roses All Purpose Flour
1 tsp (5 mL) baking powder
1/4 tsp (1 mL) baking soda
1/2 tsp (2 mL) ground allspice
salt
3 cups (750 mL) whole cranberries (if using frozen, thaw completely and bring to room temp)
Preparation
Topping:
Stir flour with brown sugar and cinnamon. Cut in butter until crumbly. Reserve. Preheat oven to 350 °F (180 °C).
Cake:
Cream butter until fluffy. Beat with sugar and eggs. Stir in buttermilk or yogurt, lemon juice and vanilla. Stir flour with baking powder, baking soda, allspice and salt. Stir into butter mixture until well combined.Fold in cranberries.
Scrape into two buttered 8-in (2 L) square pans and smooth. Sprinkle with reservedtopping. Bake for 50 to 60 minutes or until a tester inserted into center of cake comes out clean. Cool for at least 10 minutes before slicing into bars.
Tips
* To replace Break-Free Liquid Eggs with whole eggs, please consult the conversion chart on the manufacturer's Web site:www.burnbraefarms.com
** Realemon Lemon Juice can be replaced with an equal quantity of freshly squeezed lemon juice.
Learn more about