This is the Creamy Maple Nut Cake recipe.
Prep: 20 min
Cooking: 30 min - 35 min
Yields 10 servings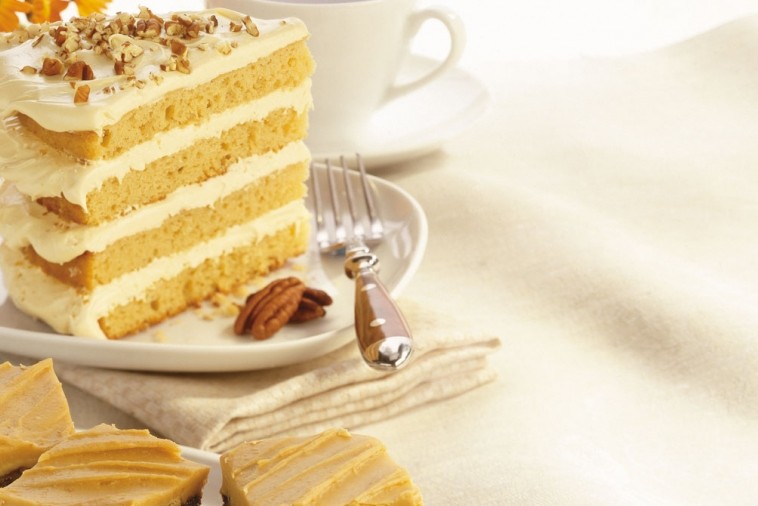 Ingredients
Cake
1/2 cup (125 mL) butter softened
1 1/4 cups (310 mL) brown sugar
2 eggs
1 tsp (5 mL) vanilla extract
2 cups (500 mL) all-purpose flour
1 tbsp (15 mL) baking powder
1/2 tsp (2 mL) salt
1 cup (250 mL) Milk
Frosting
2 pkgs (8 oz / 225 g each) Canadian Cream cheese softened
1 cup (250 mL) maple syrup
1/4 cup (60 mL) pecan halves
Preparation
Cake:
Preheat oven to 350 °F (180 °C). Line the bottoms of two buttered 8-inch (20 cm) round cake pans with parchment paper.
Beat butter in a large bowl until creamy. Blend in sugar until fluffy. Add eggs, one at a time, beating between additions. Stir in vanilla.
Blend flour with baking powder and salt in another bowl. In three additions, alternating with milk , add the flour to the butter mixture. Beat well between additions. Divide batter between pans. Bake for 30 to 35 minutes or until cakes spring back when lightly touched. Cool on a rack.
Frosting:
Beat Canadian Cream Cheese until smooth, about 5 minutes. Add half the maple syrup and beat until well combined. Slice each cake layer in half to make two more layers.
Place the bottom layer of the cake on a platter and brush top with some of the remaining maple syrup. Frost with a thick layer of frosting that just droops over the side of the cake. Repeat with additional layers. Sprinkle with pecans.
Tips