This is the Creole Sausage on a Bun recipe.
Yields 6 servings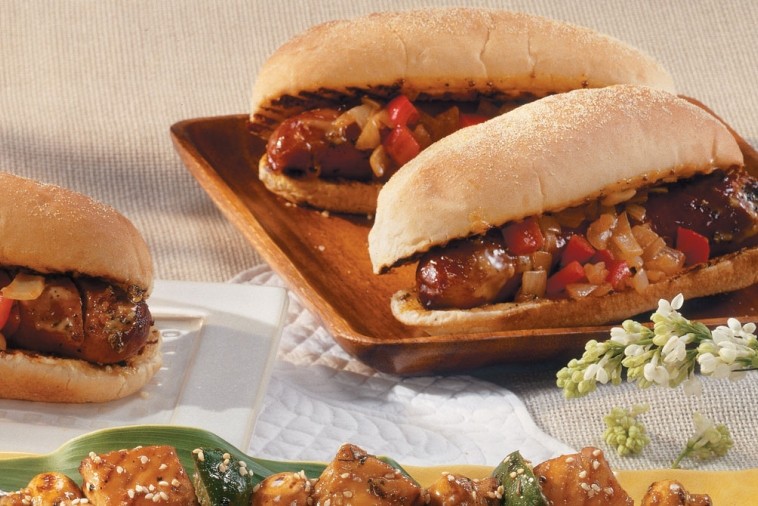 Ingredients
6 smoked sausages mild or hot
3/4 cup (180 mL) bottled Creole Dijon BBQ sauce
2 tbsp (30 mL) coarsely ground pepper
1 red bell pepper diced
1 large onion diced
2 tbsp (30 mL) bottled steak sauce
1 tbsp (15 mL) lemon juice
1 tbsp (15 mL) butter
1/4 tsp (1 mL) salt
6 large panini buns
Preparation
Preheat grill to medium-high then line with non-stick grill foil.
Brush sausages with 1/2 cup (125 mL) of Dijon sauce. Sprinkle pepper over a clean surface and roll sausages to coat with pepper.
Take a rectangle of heavy-duty foil and seal on three sides to form a bag (or use a pre-prepared 'hot bag'). Combine red pepper, onion, steak sauce, lemon juice, butter and salt in the bag, folding open edge to make a snug packet. Place bag on the grill for 10 minutes, turning once. Meanwhile, grill sausages, turning often, for 8 to 10 minutes or until well browned.
Brush rolls with remaining Dijon sauce and toast on grill until nicely marked. Place a sausage in each bun and top with onion-pepper mixture.
Tips
Learn more about
Nutrition
Nutritional Information
per serving
Energy:

626 Calories

Protein:

22 g

Carbohydrate:

67 g

Fat:

30 g

Calcium:

14 % /

141 mg

Fibre:

1 g

Sodium:

891 mg