DORÉ-MI Cheese Brochettes
This is the DORÉ-MI Cheese Brochettes recipe.
Prep: 10 min - 15 min
Cooking: 5 min
Yields 4 servings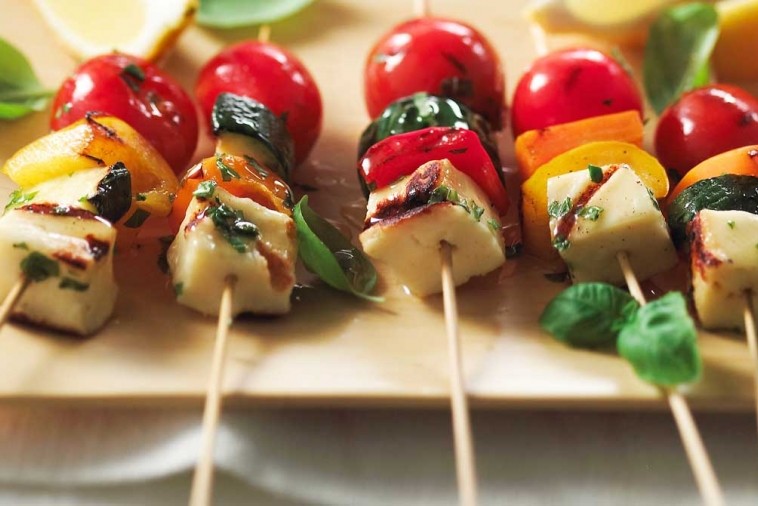 Ingredients
1 lb (450 g) Canadian Doré-mi cheese in 1 inch cubes
8 cherry tomatoes
Choice of vegetables: sliced zucchini, bell pepper, white mushrooms.
Marinade
1 garlic clove minced
1/2 cup (125 mL) olive oil
Juice of one lemon
1-2 tbsp (15 to 30 mL) fresh oregano or basil chopped
Freshly ground pepper to taste
Preparation
Preheat barbecue to high.
Make 4 brochettes by alternating Canadian Doré-mi cheese cubes and vegetable pieces on skewers.
Mix together marinade ingredients and brush on brochettes while cooking or pour over brochettes before serving.
Grill brochettes on very hot barbecue. Cook only long enough to brown and soften cheese. Serve right away, so that cheese stays hot, as a main course with a salad and pasta or rice.
Recipe from Chef Véronique Gagnon-Lalanne
Tips
You can use another type of cheese by freezing the brochettes for a few hours before cooking. As for Canadian Doré-mi, it keeps its shape and firm texture even when cooked.
Learn more about