This is the Fondue for Cheese Lovers recipe.
Prep: 35 min
Cooking: 20 min
Yields 4 servings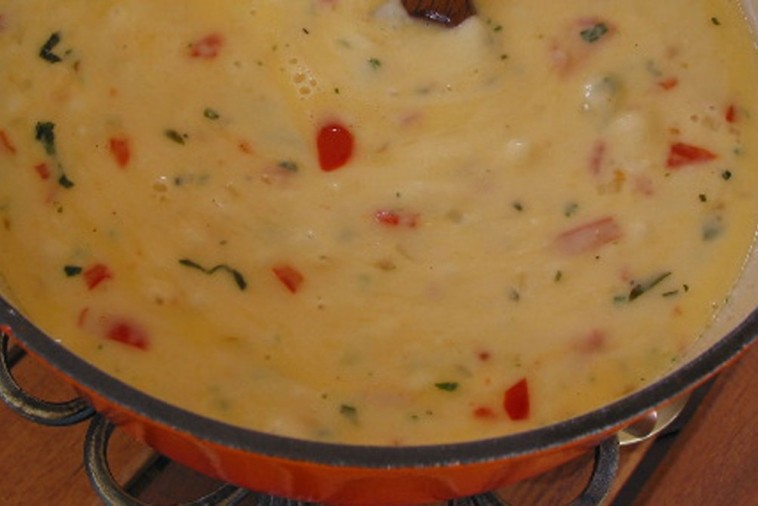 Ingredients
Basic cheese fondue
1 tbsp (15 mL) butter
1 shallot chopped
1 clove garlic chopped
2/3 cup (160 mL) white wine
11 oz (340 g) Canadian Emmental or Canadian Chaliberg cheese grated
4 oz (120 g) Canadian Vacherin cheese grated
Salt and freshly ground pepper to taste
1 tbsp (15 mL) cornstarch
Preparation
In a fondue pot, melt butter and sweat shallot and garlic over a medium heat for 2-3 minutes. Deglaze with white wine and reduce by one third, which will take 3 to 4 minutes. Add the grated cheeses and allow them to melt over a moderate heat, stirring constantly with a wooden spoon. Season with salt and pepper.
Thicken the cheese fondue by adding the cornstarch mixed with a little water. Heat until the mixture is smooth.
Serve immediately with stale bread, plus cold cuts, vegetables, fruit and nuts etc.
Tips
Variations:Gardener's cheese fondue: replace wine with cider, add 1/2 an apple, diced small, and 1 tbsp (15 mL) fresh parsley and fresh chives to fondue.
Italian cheese fondue: Add 2 tomatoes, deseeded and diced, and 1 tbsp (15 mL pesto, homemade or store-bought, to fondue.
Cheese fondue with fresh herbs: Add 1/4 cup (60 mL) chopped fresh herbs, (thyme, oregano, rosemary, basil, parsley etc.) to fondue.
Cheese fondue with olives: Add 1/4 cup (60 mL) sliced green and/or black olives to fondue.
Cheese fondue with nuts: Replace half the wine with a nut liqueur and add 3 tbsp (45 mL) toasted chopped nuts to fondue.
Learn more about