This is the Golden Cheddar Pancakes recipe.
Prep: 10 min
Cooking: 5 min - 10 min
Yields 5 - 6 servings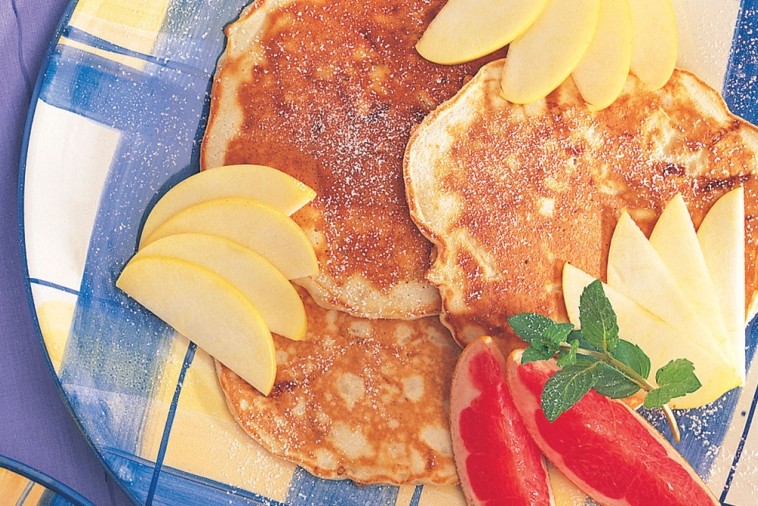 Ingredients
1 3/4 cups (430 mL) whole wheat or all purpose flour
1/4 cup (60 mL) sugar
1 tbsp (15 mL) baking powder
1/2 tsp (2 mL) salt
1/4 tsp (1 mL) ground cinnamon
1 1/2 cups (375 mL) shredded Sharp Canadian Cheddar or Colby cheese
1 large apple cored and diced
2 eggs
1 1/4 cups (310 mL) milk
2 tbsp (30 mL) melted butter
1 tsp (5 mL) vanilla extract
Preparation
Combine dry ingredients in large bowl. Stir in Sharp Canadian Cheddar cheese and apple. Beat together eggs, milk, butter and vanilla. Pour over dry ingredients and stir just until moistened.
Lightly grease non-stick skillet and heat over medium heat. Pour in batter, 1/4 cup (60 mL) for each pancakes, and spread into 4-inch (10 cm) rounds. Cook until bubbles form on surface and underside is golden brown. Turn and brown other side.
Tips
Suggestion for complete meal: serve with grapefruit sections and a slice of back bacon.