This is the Golden Penny Pancakes recipe.
Prep: 15 min
Cooking: 5 min - 10 min
Yields 6 servings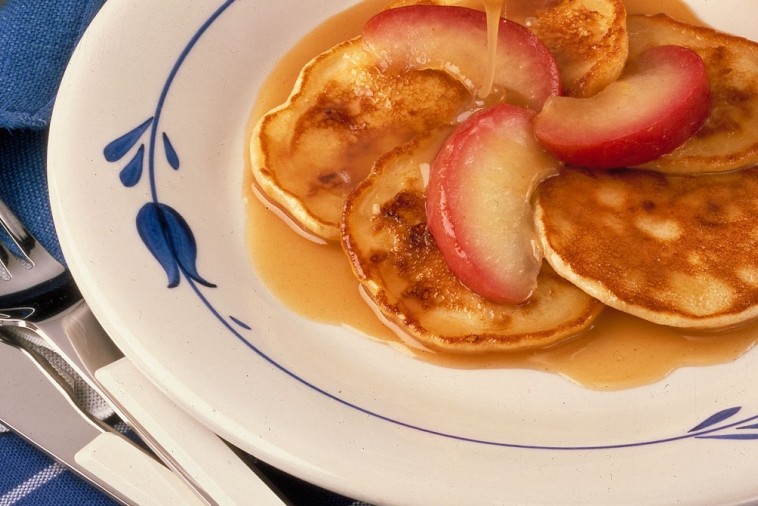 Ingredients
3/4 cup (180 mL) all-purpose flour
1 1/2 tsp (7 mL) baking powder
1 1/2 tsp (7 mL) sugar
1/4 tsp (1 mL) salt
1 cup (250 mL) grated Canadian Cheddar or Canadian Colby cheese
1 egg
1 cup (250 mL) Milk
2 tbsp (30 mL) butter melted
Sautéed Apples
Hot Buttery Maple Syrup
Sautéed Apples
1 tbsp (15 mL) butter
1 large apple peeled or not, cut into 18 wedges
Hot Buttery Maple Syrup
1 cup (250 mL) Maple syrup
1/2 cup (125 mL) butter
Preparation
Stir together flour, baking powder, sugar and salt in a medium bowl. Mix in cheese. Beat together egg, milk and butter; add to dry ingredients all at once; stir just until moistened.
Spread 1 tbsp (15 mL) batter in hot, lightly buttered frypan or griddle. Cook until bubbles appear on the surface; turn and brown underside. Serve with Sautéed Apples and Hot Buttery Maple Syrup.
Sautéed Apples :
Melt butter in medium frypan. Add apple wedges and sauté until tender.
Hot Buttery Maple Syrup :
Combine maple syrup and butter in saucepan. Cook and stir until butter is melted. Cool slightly; stir well before serving.
Makes 1 1/2 cups (375 mL).
Tips