GrassHopper Ice Cream Cake
No cake recipe will ever beat an ice cream cake recipe on a hot summer day. If you're having people over for a special occasion, we suggest making this Grasshopper Ice Cream Cake: simultaneously sophisticated and surprising, it's inspired by the similarly named mint-flavored cocktail. And mostly, what's not to love about an easy dessert?

Chocolate cookie crumbs coated in Canadian butter make for a tasty crust, mint chocolate chip ice cream (Canadian of course!) gives a fresh kick, and a soft, whipped topping ties this memorable ice cream cake together. In Andy's words: "One of my childhood best friends' mom made this mint chocolate chip ice cream cake every single Labour Day. I would live for it. Sweet, minty, creamy, perfect treat for a hot day."
Prep: 30 minutes
Freezing: 3 hours
Yields 8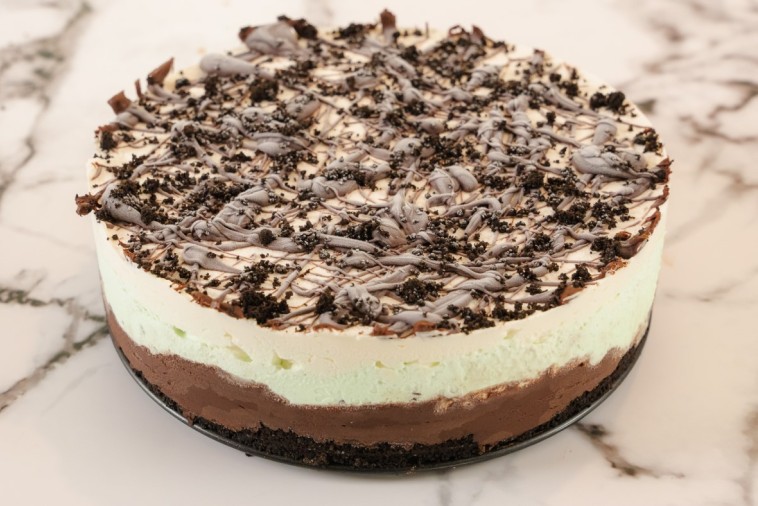 Ingredients
Chocolate cookie crust
625 ml (2 1/2 cups) chocolate cookie crumbs
75 ml (5 tbs) melted, Canadian butter
Chocolate Ganache
Two 115 g (two 4-ounce) semi-sweet chocolate bars (or equal weight in chocolate chips)
250 ml (1 cup) Canadian heavy whipping cream
Whipped Topping
565 ml (2 1/4 cups) heavy whipping cream
65 ml (1/4 cup) powdered sugar
15 ml (1 tablespoon) vanilla
10 ml (2 teaspoons) gelatin
125 ml (1/2 cup) cold water
Ice Cream
About 1.5 L (1.5 Quart) container of Canadian Mint Chocolate Chip Ice cream (slightly softened)
DID YOU KNOW?
When you see the Blue Cow Logo on a product, it means it's made with 100% Canadian quality milk.
LEARN MORE
Preparation
In a large bowl, mix together chocolate cookie crumbs and melted butter. Stir until butter coats all of the crumbs. Remove 160 ml (2/3 cup) of the mixture and set aside. Pour the rest of the crumbs into a lightly greased 20 cm (8 inch) springform pan. Using the bottom of a measuring cup, press down on the mixture to help it form together.
Now let's tackle the ganache. Pour the heavy whipping cream into a small pot and bring the cream to a light simmer. Place the chopped chocolate or chocolate chips into a small bowl. Once simmer has been reached, pour cream over the chopped chocolate and let the warm cream melt the chocolate. Do not stir immediately and let the chocolate and cream get to know each other. After about 5 minutes, you can stir and it will turn into a beautiful, rich chocolate ganache. If the mixture is too thick add in a tbs of cream and stir. Set aside.
Next up the whipped topping. Pour powdered gelatin into the ½ cup of cold water and stir. Allow the mixture to sit for about 1-2 minutes. Once the mixture has thickened, pop it into the microwave for 5-10 seconds to liquify the mixture. Set aside to cool.
While the gelatin mixture is cooling, whip together the whipping cream, powdered sugar, and vanilla using a stand or hand mixer. Once the cream is starting to whip, slowly stream in the liquified gelatin mixture. Continue to whip until stiff peaks form.
OK now the hard work is done, it's time to build this cake. Pour and smear the chocolate ganache over the middle of the crust. Smear the chocolate across the cake leaving about 1.5cm (½ inch) space between the edges. You can even add 15 ml (2 tbs) of the left-over cookie crust over the ganache here.
Next, scoop and smear the mint chocolate ice cream over the entire crust.
Now spread the whipped topping over the top of the cake and smooth out the top to make it even.
Sprinkle the remaining cookie crumbs over the top of the cake.
Pop the cake into the freezer and allow it to freeze for about 3 hours.
Once ready to serve, remove from the freezer, slice, and enjoy!