This is the Hearty Soups recipe.
Prep: 15 min
Cooking: 15 min - 20 min
Yields 4 servings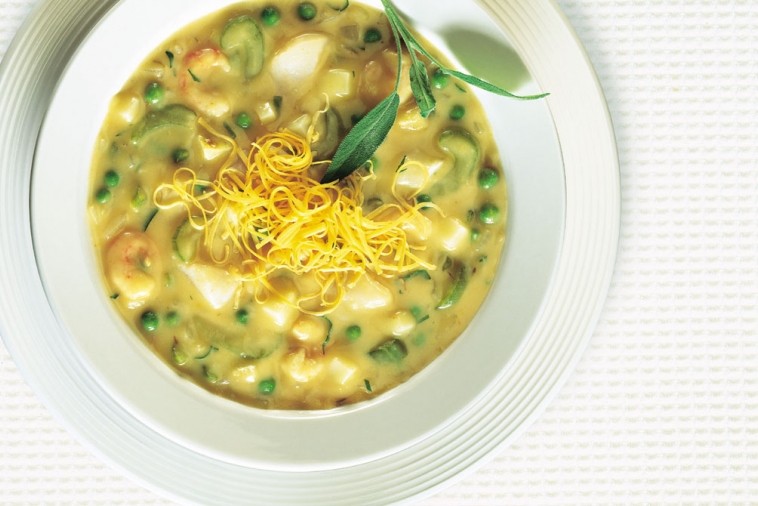 Ingredients
Herbs
Thyme and parsley
Marjoram and parsley
Italian seasoning or cumin
Vegetables
Cooked peas and diced potatoes
Cooked corn and sliced mushrooms
Cooked, chopped broccoli, zucchini and shredded carrot
Fish/Meat/Legumes
Any cooked whitefish, shrimp or both
Chopped, cooked ham or cooked smoked sausages
Canned beans in tomato sauce, cooked lentils or chickpeas
Canadian Cheese
Grated Cheddar
Grated Swiss
Grated Monterey Jack or Grated Montererey with jalapenos
Grated Colby
Grated Gouda
Preparation
Melt 1/4 cup (60 mL) butter in large saucepan. Cook 1 chopped onion, 1 chopped stalk of celery and herbs, to taste, until tender.
Remove pan from heat and blend in 1/3 cup (80 mL) flour then 3-1/2 cups (875 mL) chicken broth. Cook and stir until mixture boils.
Remove pan from heat and add 1-1/2 cups (375 mL) cooked vegetables, 1 cup (250 mL) cooked fish/meat/legumes and 2 handfuls of cheese. Stir until cheese melts. Top each serving with more cheese and paprika, if desired.
Tips