This is the Hollandaise Sauce recipe.
Prep: 15 min - 20 min
Cooking: 5 min - 10 min
Yields 375 ml / 1 1/2 t.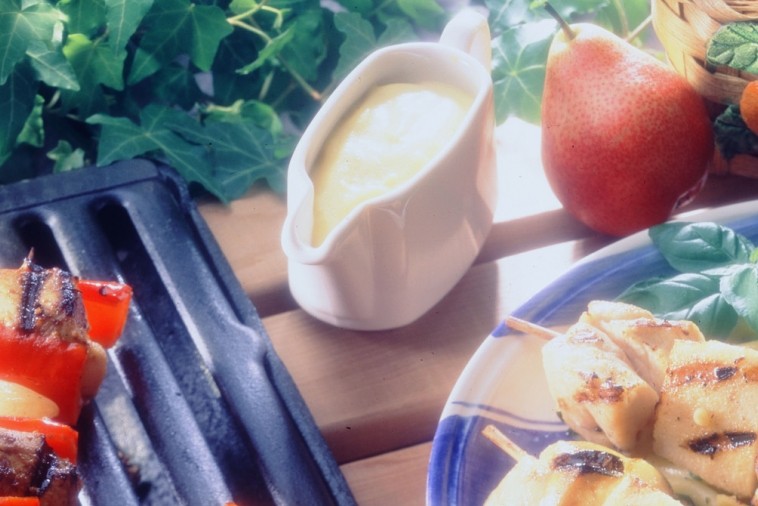 Ingredients
10 oz (300 g) butter
5 egg yolks
Juice of half a lemon
Salt to taste
A pinch of Cayenne pepper
Cold water
Preparation
Slowly melt butter in a small double-boiler, or in a stainless steel bowl placed over a pan of barely simmering water, over low heat without stirring. Skim off the froth from the surface of the butter. Pour melted butter into another bowl, leaving whey at the bottom and keeping only the clarified butter. Keep warm.
Place egg yolks in a metal bowl. Add about half a tablespoon of cold water for each yolk.
Using a whisk, whisk yolks vigorously over a pan of barely simmering water. Eggs should cook at a temperature of about 150 °F (65 °C). The bowl should never get too hot; you must always be able to leave the palm of your hand in contact with it.
When the egg emulsion reaches the consistency of a cream, meaning that every time you whisk, the bottom of the bowl is visible, remove from heat and gradually whisk in clarified butter. Season with salt, a small pinch of Cayenne pepper and a few drops of lemon juice, to taste.
Set aside and keep warm by covering with a plate.
Jean Soulard, Executive Chef, Le Château Frontenac
Tips
Learn more about