This is the Homemade Pizza Dough recipe.
Yields 1 15 inch pizza crust (38 cm)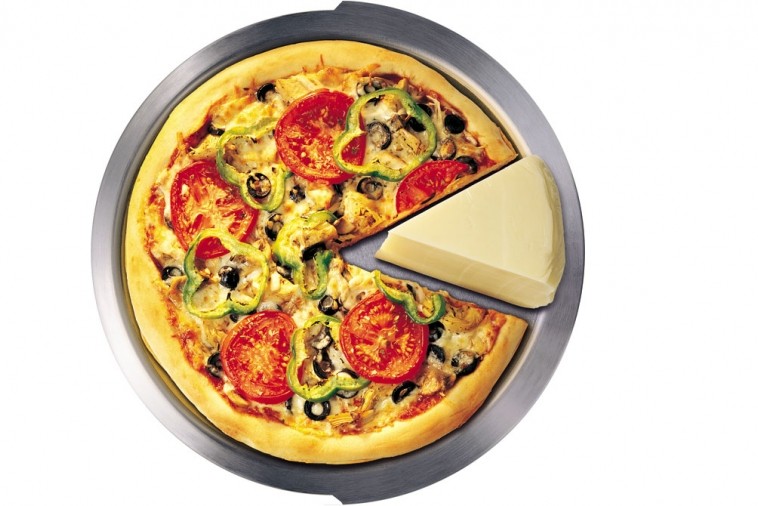 Ingredients
3 cups (750 mL) all-purpose flour
1/4 oz (7 g) packet active dry yeast
2 tbsp (30 mL) vegetable oil
1 tsp (5 mL) salt
1 tbsp (15 mL) sugar
1 cup (250 mL) warm water at 110 °F (43 °C)
Preparation
Mix flour, salt, sugar and yeast in a large bowl. Add oil and water. Stir well until mixture forms a ball. Knead until smooth. Spread dough on a large pizza pan.
Prepare your own pizza
:Put pizza crust on a lightly oiled large pizza pan or cookie sheet. Spread sauce on crust.Add toppings and sprinkle with Canadian cheese (1 1/2 cups / 375 mL or to taste).Bake at 450 °F (230 °C) for 10 to 12 minutes, or until pizza is hot and cheese melted. Reduce baking time for thin crusts (pitas or tortillas).
ProvençalCrust: 1 large prebaked thin pizza crustSauce: Pesto, alone or mixed with sour creamToppings: Diced, cooked boneless chicken, diced tomatoes and cooked mushroomsCanadian Cheese: Mixture of shredded Cheddar or Mozzarella (regular or smoked)
Type:
MexicanCrust: 2 large or 4 small flour tortillasSauce: Barbecue sauceToppings: Canned beans, drained and mashed, with salsa and cornCanadian Cheese: Mixture of shredded Mexican-style Canadian cheese or Canadian Monterey Jack and Canadian Cheddar
Type:
GreekCrust: 4 pitasSauce: Ranch dressing or tzatziki sauceToppings: Sliced black olives, sweet red or yellow pepper and oreganoCanadian Cheese: Crumbled Feta or shredded Mozzarella
Type:
MiniCrust: 4 English muffins cut in half and toastedSauce: Pizza or spaghetti sauceToppings: Sliced sausage or pepperoni, sliced green pepper and cooked mushroomsCanadian Cheese: Shredded Cheddar or Colby
Type:
SeafoodCrust: 1 refrigerated or thawed frozen pizza crustSauce: Béchamel sauceToppings: Cooked seafood (like shrimp or scallops) and garlicCanadian Cheese: Shredded Mozzarella
Type:
ItalianCrust: 1 Italian flatbreadSauce: Drizzled olive oilToppings: Sliced tomatoes, crushed garlic, fresh basil and oregano, toasted pine nuts (optional)Canadian Cheese: Mixture of grated Parmesan and shredded Mozzarella and Cheddar.
Tips
Dust your hands and kneading surface with lots of flour to make the dough easier to work with. Reserve some flour for this purpose.
For a thicker crust, let dough rise covered for 30 minutes before adding sauce, cheese and toppings.
Learn more about