Hot Stuffed Cheddar Potatoes
This is the Hot Stuffed Cheddar Potatoes recipe.
Prep: 15 min
Cooking: 20 min - 25 min
Yields 8 half potatoes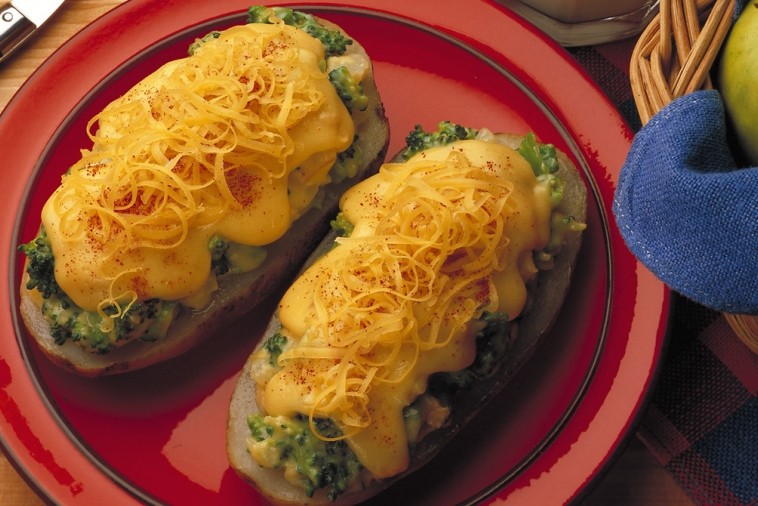 Ingredients
4 hot baked potatoes
1 cup (250 mL) chopped cooked broccoli
1 cup (250 mL) chipped cooked turkey or chicken
Salt and pepper to taste
Cheese sauce
1 can (10 oz / 284 mL) cream of chicken soup
1/2 cup (125 mL) Milk
2 cups (500 mL) shredded Canadian Cheddar cheese
Preparation
Cut potatoes in half lengthwise. Scoop out centres into bowl leaving 1/4 inch (6 mm) shell.
Cheese Sauce
Smoothly combine soup and milk; add Canadian Cheddar cheese. Cook and stir over medium heat until cheese melts; keep warm.
Break up potato pieces; add broccoli and turkey. Stir in 1 cup (250 mL) cheese sauce. Add salt and pepper to taste. Spoon mixture into potato shells. Cover and bake in 350 °F (180 °C) oven 15 to 20 minutes. Pour hot sauce over each serving; top with more shredded cheese.
Tips
For the sauce, substitute cream of mushroom soup for chicken soup. Substitute Canadian Swiss cheese for Canadian Cheddar. Substitute chopped cooked ham for turkey.