This recipe is taken from the 1995 Milk Calendar. This is the Lemon Meringue Pie recipe.
Prep: 25 min
Cooking: 20 min
Yields 6 - 8 servings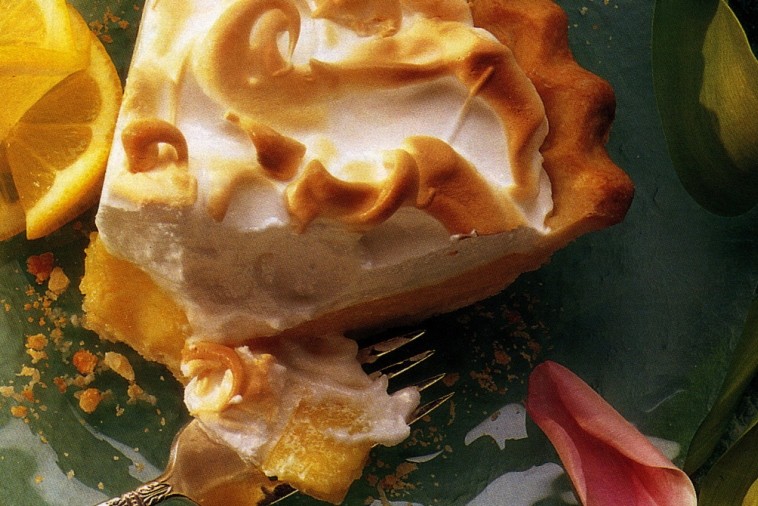 Ingredients
4 egg yolks
1 1/4 cups (310 mL) sugar
1/4 cup (60 mL) cornstarch
3/4 cup (180 mL) fresh lemon juice
1 tbsp (15 mL) grated lemon zest
1 cup (250 mL) Milk
2 tbsp (30 mL) butter
1 9-inch (23 cm) prebaked pie crust
Meringue
4 egg whites
3/4 cup (180 mL) sugar
Preparation
In a medium or large saucepan, whisk egg yolks with sugar until mixture is lighter in colour and well combined. Whisk in cornstarch. Add lemon juice, peel and Milk. Cook mixture, stirring constantly, over medium heat until mixture thickens and comes to a boil.
Remove from heat. Stir in butter. Cool to room temperature, stirring occasionally. Pour into prebaked pie shell.
Meringue
Beat egg whites until mixture turns white. Slowly beat in half the sugar. Continue beating until stiff peaks form. Fold remaining sugar into egg whites with a large whisk or rubber spatula.
Spread meringue gently over the top, making sure meringue touches edges of crust all around to help prevent shrinking. Swirl meringue attractively. Bake pie in a preheated 350 °F (180 °C) oven for 20 min or until golden. Chill.
Tips
Learn more about