This recipe is taken from the 1991 Milk Calendar. This is the Lemon Pudding Cake recipe.
Prep: 20 min
Cooking: 40 min - 45 min
Yields 6 - 8 servings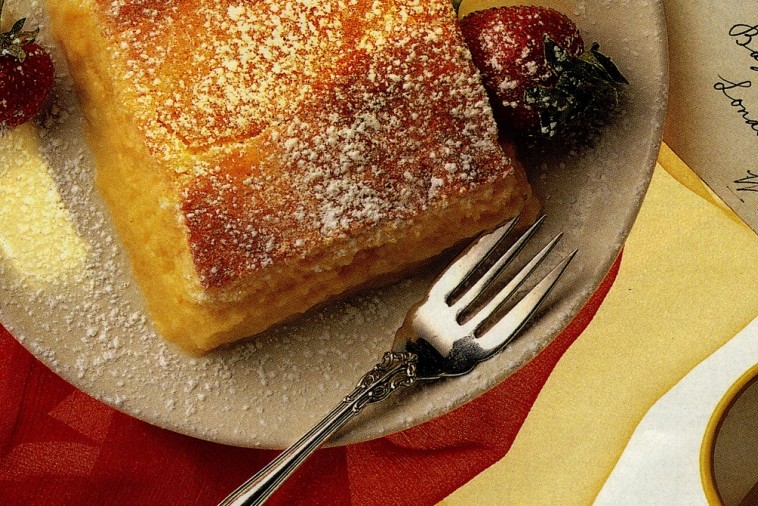 Ingredients
1/4 cup (60 mL) butter
2/3 cup (160 mL) sugar
4 eggs separated
2 tbsp (30 mL) grated lemon zest
1/3 cup (80 mL) all-purpose flour
1 cup (250 mL) Milk
1/2 cup (125 mL) freshly squeezed lemon juice
of salt
Sifted icing sugar
8 fresh strawberries for garnish
Preparation
Cream butter with all but 2 tbsp (30 mL) sugar. Beat in egg yolks. Beat in lemon zest. Stir in flour until just mixed. Add milk and lemon juice. Stir well.
In another bowl beat egg whites with salt until light. Gradually beat in remaining 2 tbsp (30 mL) sugar. Beat until firm. Fold egg whites gently into lemon base.
Spoon batter into a buttered 8-inch (20 cm) square cake pan. Place the pan in a larger one of very hot water (to come halfway up the sides of the baking dish) in a preheat 350 °F (180 °C) oven for 40 to 45 min. Cake should be puffed and browned on top and have a custard sauce-like mixture at the base.
To serve, cut into squares. Lift out of pan onto serving plate with a wide spatula. Dust with icing sugar and serve with a strawberry on the side. Serve warm or cold.
Tips