"Loaded" Baked Potato Poutine
Fresh homemade fries, gravy, and Canadian cheese curds: this is the winning recipe for a hearty, tasty and 100% delicious Canadian dinner.
Prep: 10 minutes
Cooking: 25 minutes
Yields 4 servings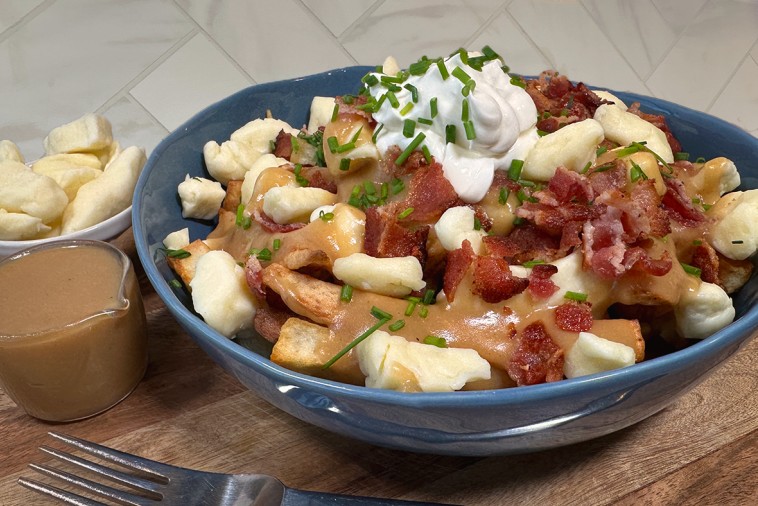 Ingredients
Fries
2 lbs (900g) russet potatoes, (3-4 potatoes)
2-3 tbsp (30-45 ml) olive oil
1 tsp (5 ml) salt
Gravy
1 tsp (5 ml) olive oil
½ medium onion
2 cloves garlic, minced
½ tsp (3 ml) thyme
½ tsp (3 ml) pepper
¼ cup (60 ml) Canadian butter
¼ cup (60 ml) flour
2 ¼ cups (560 ml) beef broth
Toppings
0.25lb (115g) bacon, (5-7 slices)
2-3 tbsp (30-45 ml) Canadian sour cream
2-3 tbsp (30-45 ml) chives
1 ½ cups (275 ml) Canadian white cheddar cheese curds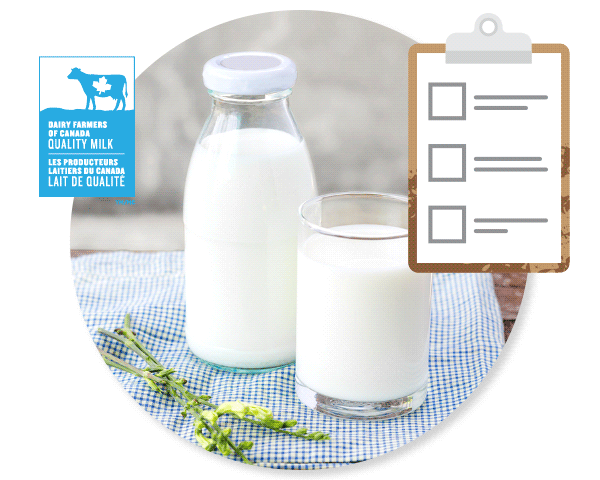 DID YOU KNOW?
When you see the Blue Cow Logo on a product, it means it's made with 100% Canadian quality milk that meets some of the highest standards in the world.
Learn More
Preparation
Instructions
Wash and peel potatoes. Cut potatoes into ¼-inch (1.25cm) thick fries and soak in a water bath for 30 minutes.
Meanwhile, add bacon to a frying pan and cook until crispy. Chop bacon into bite sized pieces. Finely chop chives. Set aside.
Drain fries. If needed, pat dry to remove excess water. Toss with oil and salt until all pieces are coated evenly.
Put fries in the airfryer at 390°F for 25-30 minutes.
After 10 minutes, remove and shake the basket, and continue to cook until golden brown on the outside.
While fries are cooking, dice onion and cook in olive oil over medium heat until translucent. Add garlic and seasoning. Cook for 2 minutes.
Add Canadian butter to onions and spices, and cook until melted. Add flour and cook for 5 minutes stirring constantly until the mixture turns golden brown.
Slowly add beef broth, stirring after each addition until smooth. Bring to a boil, reduce heat to a simmer and cook for 2 minutes. Remove from heat, and strain.
Assembly
Place fries in a serving bowl and top with Canadian sour cream, chives, bacon bits and Canadian cheddar cheese curds. Pour hot gravy over the fries and toppings.
Tips
Oven instructions: Prepare french fries according to instructions and then place on a foil-lined baking sheet. Bake in a 450°F oven for about 20 to 30 minutes or until golden brown. Flip the fries at least 2-3 times during the baking process.