This is the Mexicana Cheeseburgers recipe.
Prep: 10 min
Cooking: 8 min - 16 min
Yields 4 hamburgers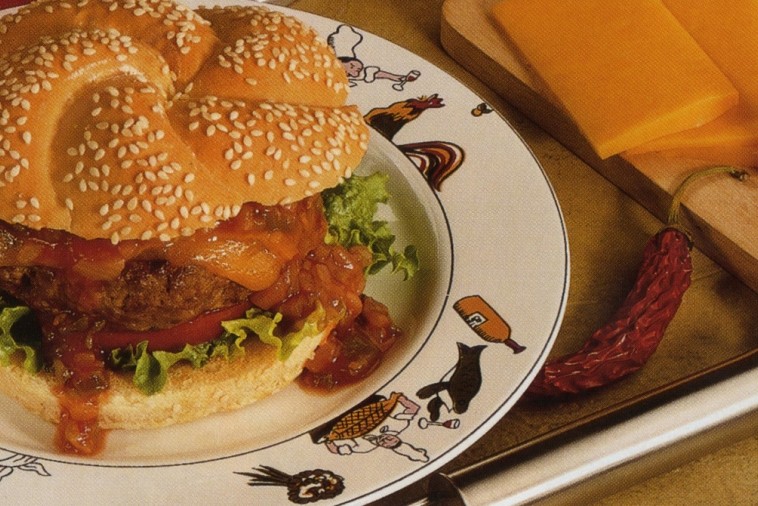 Ingredients
1 lb (450 g) lean ground beef
1 pkg about 1 oz (35 g) taco seasoning mix
1 egg beaten
4 oz (125 g) Canadian Colby* cheese sliced
Leaf lettuce
Sliced tomatoes
4 hamburger buns split, toasted
Bottled taco sauce (optional)
Preparation
In large bowl, combine beef, seasoning mix and egg; mix well. Shape into 4 patties.
Barbecue or broil until cooked, about 15 minutes. Top with Canadian Colby cheese; cook until cheese is melted. To serve, place lettuce and tomato slices on bottom halves of buns. Top with meat patties, taco sauce if desired, and tops of buns.
Cooking time: 4 to 8 minutes per side
In medium frypan, melt 2 tbsp (30 mL) butter. Sauté 3 cups (750 mL) sliced fresh mushrooms until tender and liquid has evaporated; keep warm.
Use 1/2 cup (125 mL) grated Canadian Parmesan cheese, 3/4 tsp (3 mL) Italian seasoning and pinch garlic powder instead of taco seasoning mix. Top burgers with sliced Canadian Mozzarella cheese and sautéed mushrooms.
Tips
* Or you can use sliced Canadian Monterey Jack or Brick cheese.
Learn more about
Nutrition
Nutritional Information
per serving
Energy:

540 Calories

Protein:

36 g

Carbohydrate:

23 g

Calcium:

26 % /

321 mg

Fat:

33 g