This is the Monterey Jack Tostada recipe.
Prep: 25 min
Cooking: 5 min
Yields 16 nachos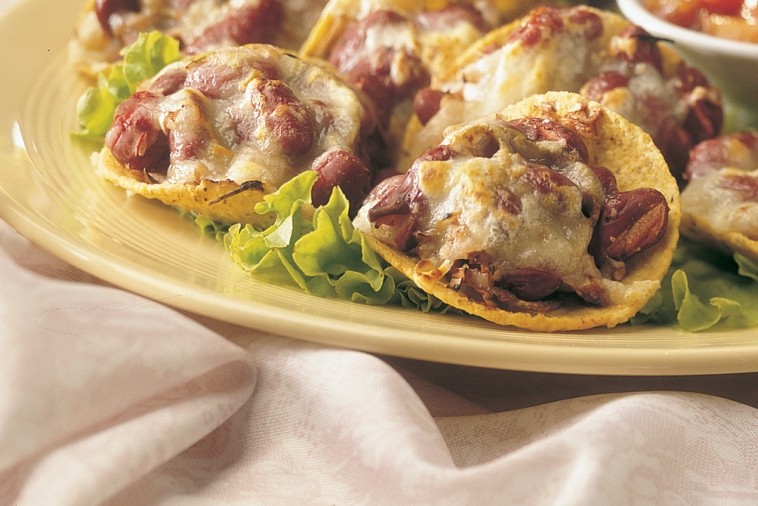 Ingredients
Express Guacamole
1 ripe avocado pitted and peeled
3 tbsp (45 mL) freshly squeezed lime juice or lemon juice
1 tbsp (15 mL) plain yogurt
Salt to taste
Tostada
1 can (18 oz/540 mL) red kidney beans or black beans drained
1 large garlic clove minced
1 small onion finely chopped
Zest of a lime or a lemon
1 tsp (5 mL) ground coriander
2 dashes of Tabasco sauce
1/2 tsp (2 mL) cocoa powder
1/2 tsp (2 mL) ground cumin
Salt and pepper to taste
16 round nachos or tortilla chips
2 1/2 cups (625 mL) white or yellow Canadian Monterey Jack shredded
3 romaine lettuce leaves chopped
Preparation
In a small bowl, mash avocado with fork and stir in half the lime juice, the yogurt and salt to taste. Set aside.
Place red kidney beans in a large bowl and mash lightly with a fork. Add garlic, onion, lime zest, the second half of the lime juice, coriander, tobasco sauce, cocoa, cumin and salt and pepper to taste.
Spread about 2 tbsp (30 mL) of the kidney bean mixture on each nacho. Place in an ovenproof serving dish. Top with shredded Canadian Monterey Jack and broil under grill for about 5 minutes or until nicely golden.
Serve nachos on romaine lettuce in individual plates, along with guacamole.
Tips
Suggestion for a healthy balanced meal:
To stay in the exotic mood, serve with rice and a mango-orange juice shake.
Medium Canadian Cheddar can be a delicious alternative to the Canadian Monterey Jack. If you wish, serve this dish with a mild or spicy commercial salsa.