This is the Paella recipe.
Prep: 20 min
Cooking: 20 min - 25 min
Yields 6 - 8 servings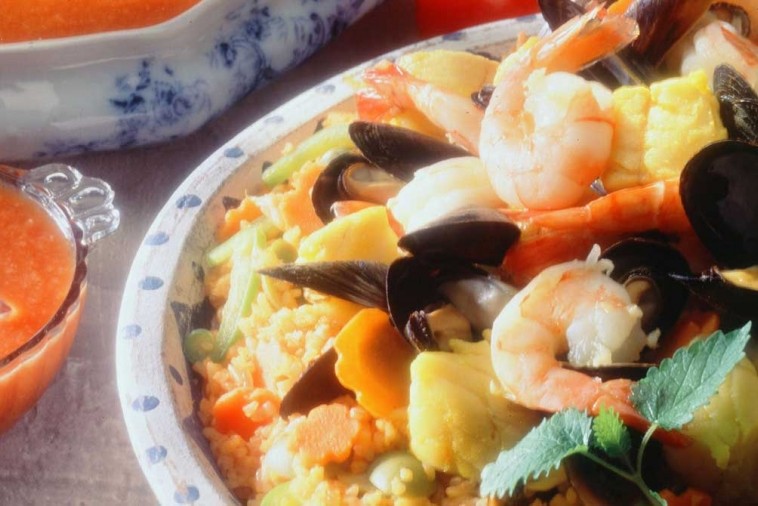 Ingredients
1 green bell pepper cut in julienne
1 carrot sliced
1 Spanish onion chopped
2 garlic cloves finely chopped
3 tbsp (45 mL) butter
1 1/2 lb (675 g) fish fillets in chunks
1 lb (450 g) large shrimps
1 1/2 cups (375 mL) white rice
4 tbsp (60 mL) tomato paste
3 cups (750 mL) fish or vegetable broth
5 oz (150 g) pitted green olive sliced
1 bay leaf
Juice of 1 lemon
of saffron
Salt and pepper to taste
20 fresh mussels scrubbed
A dash of hot sauce
A dash of Worcestershire sauce
2 tbsp (30 mL) sherry
Preparation
In saucepan, sauté bell pepper, carrot, onion and garlic in butter. Reduce heat and stir in fish, shrimp, rice and tomato paste. Gradually stir in broth. Add olives, bay leaf, lemon juice and saffron. Season to taste with salt and pepper. Add mussels, cover and cook over medium heat for 7 minutes.
Remove mussels and shrimp; set aside, keeping warm. Cook rice mixture for an additional 10 minute over medium heat. Add hot sauce and Worcestershire sauce to taste and stir in sherry. Cook over low heat for 3 to 4 minutes or until all liquid has evaporated.
Transfer paella to serving bowl and top with reserved mussels and shrimp. Garnish with lemon quarters and serve.
Tips
Learn more about
Nutrition
Nutritional Information
per serving
Energy:

394 Calories

Protein:

39 g

Carbohydrate:

39 g

Calcium:

9 % /

94 g

Fat:

8 %

Fibre:

1.2 %

Sodium:

325 %