This recipe is taken from the 1995 Milk Calendar. This is the Peaches'n Cream Muffins recipe.
Prep: 15 min
Cooking: 20 min
Yields 12 large muffins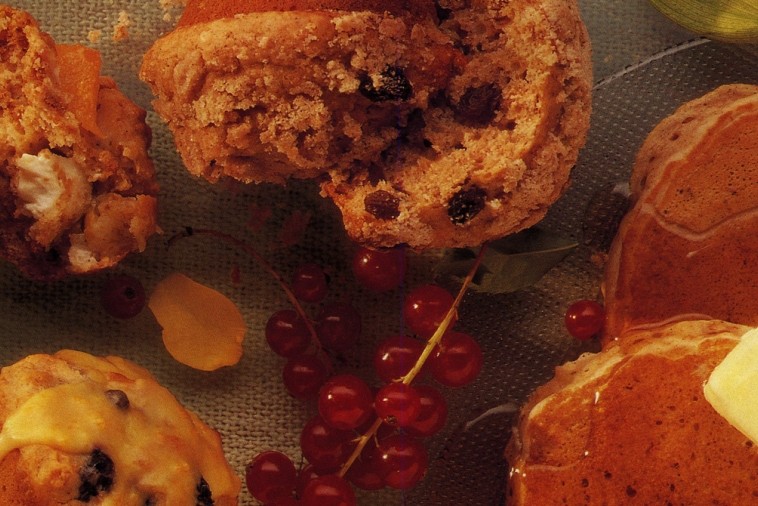 Ingredients
1 can (14 oz/398 mL) sliced peaches drained
4 oz (125 g) regular or light Canadian Cream cheese
2 eggs
1 1/4 cups (310 mL) Milk
1/3 cup (80 mL) liquid honey
1/4 cup (60 mL) butter melted
1 tbsp (5 mL) grated lemon zest
1 1/2 cups (375 mL) bran cereal
2 cups (500 mL) all-purpose flour
1 tbsp (15 mL) baking powder
1 tsp (5 mL) ground cinnamon
1/2 tsp (2 mL) salt
Preparation
Butter 12 large muffin tins or line with paper baking cups.
Chop peaches and Canadian Cream cheese into cubes. Set aside.
Beat eggs lightly with fork. Stir in milk, honey, butter and lemon zest. Add cereal. Combine remaining ingredients in large bowl. Stir peaches and cheese into cereal mixture. Stir cereal mixture into dry ingredients, mixing just until moistened.
Spoon into muffin cups, generously filling each to the top. Bake in a preheated 400 °F (200 °C) oven for 20 to 25 min or until golden brown. Cool on rack. Store in airtight container.
Tips