This is the Pizza mania recipe.
Prep: 15 min
Cooking: 10 min
Yields 1 large pizza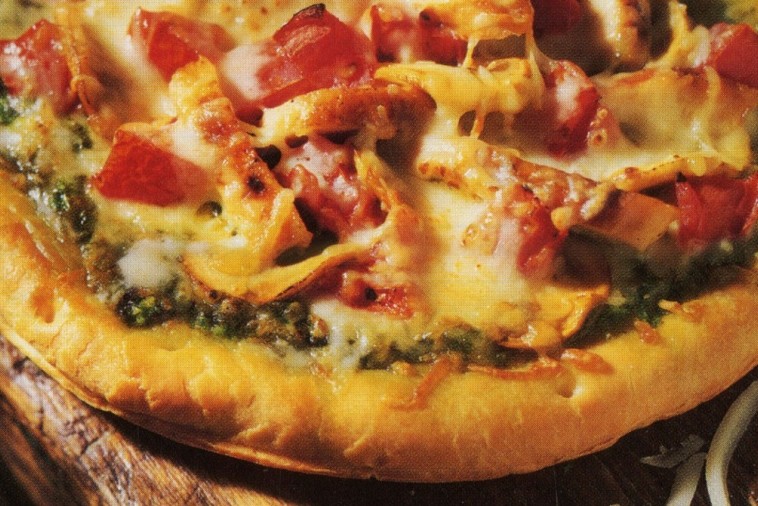 Ingredients
Crust
1 large prebaked thin pizza crust or 2 large tortillas or 4 small or 4 pita rounds or 4 English muffins split, toasted
Sauces
Basil pesto, plain or mixed with sour cream
Bottled barbecue sauce
Ranch dressing or tzatziki or Pizza sauce or meatless spaghetti sauce
Toppings
Chopped leftover chicken diced tomato and cooked mushrooms or Drained canned beans coarsely mashed with salsa and corn or Sliced black olives yellow or red bell pepper and dried oregano or Sliced wieners or pepperoni green bell pepper and sautéed mushrooms
Canadian cheese
Pre-shredded blend of Italian-type cheeses or shredded Mozzarella plain or smoked or Pre-shredded blend of Mexican-type cheeses or shredded Monterey Jack
Cheddar or Crumbled Feta
Shredded Mozzarella or Cheddar or Colby grated
Preparation
Place crust on a large baking sheet. Spread sauce over crust. Sprinkle topping and Canadian cheese (as much as you like) over sauce.
Bake in 450 °F (230 °C) oven 10 minutes or until hot and cheese is melted.
Tips
Learn more about