Profiterole Pyramid Recipe
This decadent dessert doubles as a table centrepiece – as long as it lasts. Rich, chocolatey, and surprisingly easy to make! Best with whipped cream on top. This recipe is taken from the 1982 Milk Calendar.
Prep: 25 min
Cooking: 35 min
Yields 18 - 20 profiteroles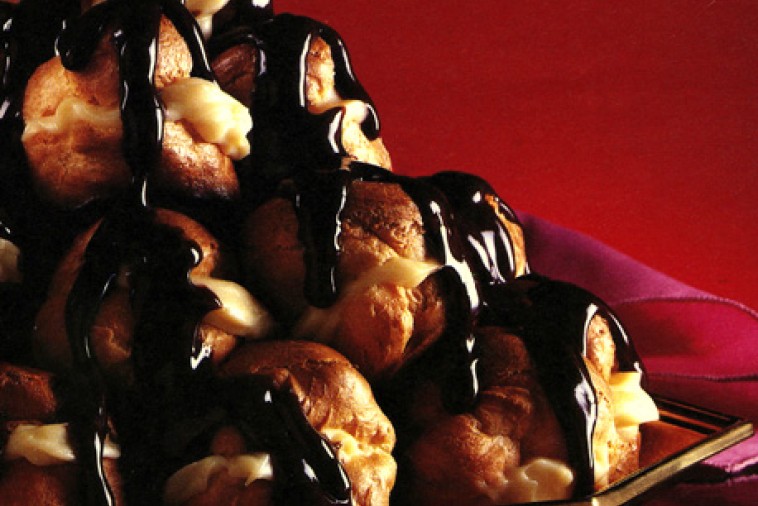 Ingredients
Profiterole Pastry
1 cup (250 mL) Milk
1/2 cup (125 mL) butter
1 cup (250 mL) all-purpose flour
4 large eggs
French Vanilla Cream
2/3 cup (160 mL) sugar
1/2 cup (125 mL) all-purpose flour
1/2 tsp (2 mL) salt
3 cups (750 mL) Milk scalded
6 eggs yolks lightly beaten
2 tbsp (10 mL) vanilla extract
2 tbsp (30 mL) butter
Preparation
Profiterole Pastry:
In a heavy saucepan, bring milk and butter to a boil; while boiling, add flour all at once. Stir rapidly until mixture forms a ball. Remove from heat. Beat in eggs thoroughly, one at a time. Place heaping teaspoons of dough on buttered cookie sheet or with parchment paper 2 inches (5 cm) apart.
Bake in a 425 °F (220 °C) oven for 20 min. Reduce heat to 350 °F (180 °C); continue baking until puffs are well risen and dry, about 10 to 15 min. Cool.
French Vanilla Cream:
Mix dry ingredients in a large saucepan; add scalded milk gradually, stirring constantly. Cook together over medium heat until thick. Remove from heat.
Stir a little hot mixture into beaten egg yolks; blend this into remaining hot mixture and cook over low heat until thickened. Remove from heat; blend in vanilla extract and butter. Cool.
To assemble:
When all ingredients are cool, slit puffs and fill with French Vanilla Cream, using a small spoon or pastry bag.
To serve, arrange puffs in a pyramid on a serving dish and garnish with chocolate sauce and whipped cream (optional).