This is the Quick and Easy Paella recipe.
Prep: 20 min
Cooking: 15 min - 20 min
Yields 4 - 6 servings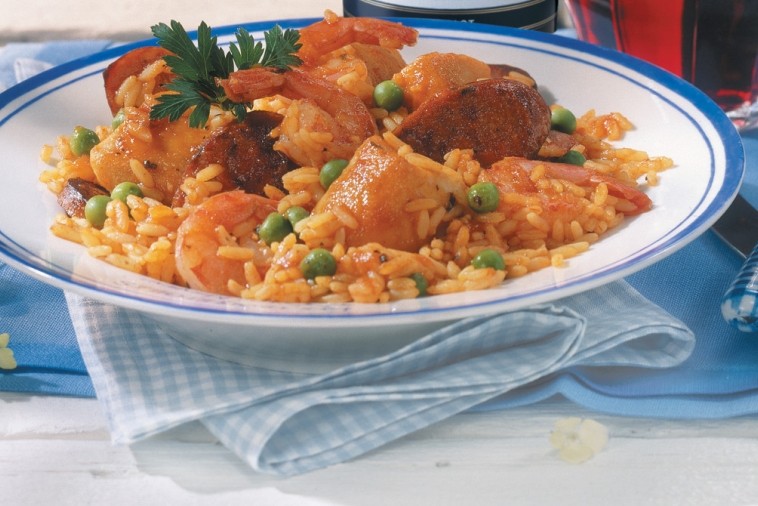 Ingredients
1 cup (250 mL) chicken broth
1/2 cup (125 mL) lemon juice
1/4 tsp (1 mL) saffron
2 tbsp (30 mL) butter
1 garlic clove minced
Salt and ground pepper to taste
4 chicken thighs boneless and skinless
2 mild smoked sausages
3 cups (750 mL) cooked rice
1/2 cup (125 mL) tomato sauce
1 cup (250 mL) frozen peas
18 peeled and deveined shrimp
Preparation
Preheat grill to medium-high then line grill with non-stick foil. Combine lemon juice, chicken broth and saffron. Bring to a boil and let stand for 5 minutes. Stir in butter, garlic, salt and pepper.
Chop chicken and sausages into bite-sized pieces and toss with 1/4 cup (60 mL) of the lemon juice mixture. Spread the chicken evenly on the foil and cook, turning as needed, for 5 minutes. Add the sausages and cook, turning as needed, for 5 to 7 minutes or until well browned and cooked through.
Toss rice with remaining lemon mixture and tomato sauce. Take a rectangle of heavy-duty foil and seal on three sides to form a bag (or use a pre-prepared 'hot bag'). Transfer rice mixture to bag and add the cooked meat, peas and shrimp. Close the bag and smooth as flat as possible. Grill for 10 minutes, flipping and turning the package often, until shrimp are cooked and rice is hot.
Tips
Learn more about
Nutrition
Nutritional Information
per serving
Energy:

345 Calories

Protein:

17 g

Carbohydrate:

36 g

Fat:

14 g

Calcium:

4 % /

42 mg

Fibre:

1.6 g

Sodium:

581 mg