Risotto with Three Cheeses
This is the Risotto with Three Cheeses recipe.
Prep: 5 min
Cooking: 25 min
Yields 4 - 6 servings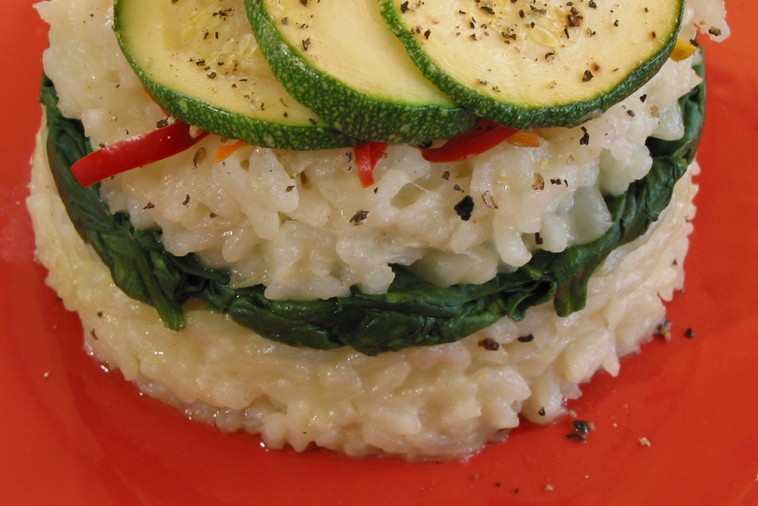 Ingredients
3 tbsp (45 mL) olive oil
1/4 cup (60 mL) butter
1 onion minced
1 garlic clove minced
1 1/2 cups (375 mL) Arborio rice
2 cups (250 mL) chicken broth
1 cup (250 mL) white wine
1 bay leaf
1 sprig fresh thyme or of dried thyme
Salt and freshly ground pepper to taste
1/4 cup (60 mL) Canadian Parmesan grated
1/2 cup (125 mL) Canadian Mozzarella shredded
1/2 cup (125 mL) Canadian Caciocavallo regular or smoked, shredded
Preparation
In a large pan, heat oil, then add and melt butter. Sweat onion and garlic over medium heat. Add rice, stir well and cook until it becomes translucent.
Mix in broth, wine, bay leaf, thyme, salt and pepper. Bring to boil and cook covered for 16 to 18 minutes, stirring frequently. Remove bay leaf and thyme sprig.
Take pan off heat and add cheeses, mix well so they melt into the hot risotto. Adjust seasoning and serve as an accompaniment to grilled or roast meat.
Tips
* Sweat: cook without browning