Roasted Butter Herb Chicken
This is the Roasted Butter Herb Chicken recipe.
Prep: 20 min
Cooking: 1 h 30 - 1 h 35
Yields 6 servings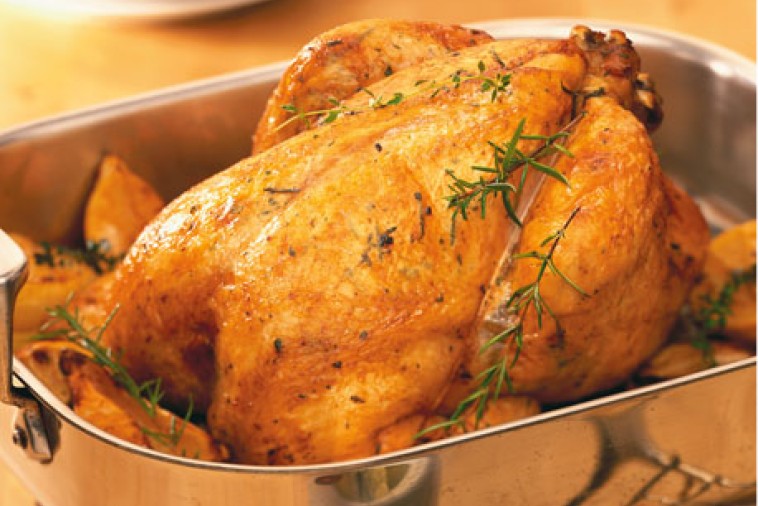 Ingredients
1/4 cup (60 mL) butter softened
2 tbsp (30 mL) chopped fresh Italian parsley
1 1/2 tsp (7 mL) chopped fresh rosemary
1 tsp (5 mL) chopped fresh thyme
1 whole roasting chicken (about 5 lb/2.5 kg)
1 small onion quartered
6 garlic cloves
1 sprig fresh rosemary
Salt and pepper to taste
Gravy
1 cup (250 mL) chicken stock
1 tbsp (15 mL) butter softened
1 tbsp (15 mL) all-purpose flour
Preparation
Preheat oven to 375 °F (190 °C).
In a small bowl, stir together butter, parsley, rosemary and thyme; set aside.
Remove giblets and neck, if any, from chicken. Rinse chicken inside and out; pat dry. Place onion, garlic and rosemary sprig in chicken cavity. Place chicken breast side up on rack in small roasting pan.
Using fingers, gently loosen skin from breast and legs of chicken. Spread half of the butter mixture evenly underneath the skin. Spread remaining butter all over outside of chicken. Sprinkle with salt and pepper. Tuck wings under back of chicken and tie legs together with kitchen string.
Roast in oven for about 1 1/2 hours or until juices run clear when pierced and thermometer inserted in thigh registers 185 °F (85 °C). Transfer chicken to platter and tent with foil.
Skim fat from roasting pan juices. Place roasting pan over medium-high heat and add chicken stock. Bring to boil for 3 minutes, whisking up brown bits.
In a small bowl, mash together butter and flour. Add to chicken stock and cook, whisking for about 1 minute or until smooth and thickened. Pour into gravy boat and serve with chicken.
Tips
Garlic Mint Butter Option:Try another herb mixture to change the flavour of the chicken or use it alongside with vegetables of your choice. In a bowl, combine 1/4 cup (60 mL) softened butter, 2 tbsp (30 mL) each chopped fresh parsley and mint, and 2 small cloves garlic, minced.
These flavour combinations of butter herb are also delicious to try with your next holiday turkey.
No time for gravy' No problem! The butter herb makes the chicken so juicy and tender you won't miss it.
Learn more about