Salisbury Steak with Mushroom Sauce
This recipe is taken from the 1995 Milk Calendar. This is the Salisbury Steak with Mushroom Sauce recipe.
Prep: 15 min
Cooking: 25 min
Yields 6 servings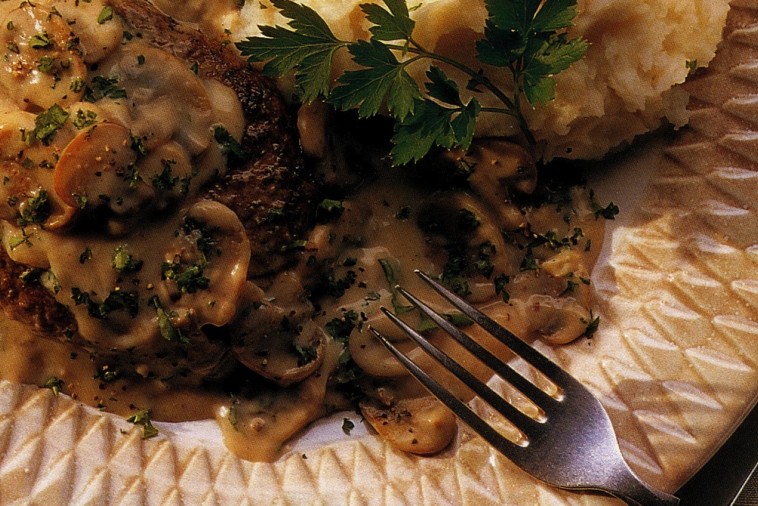 Ingredients
1 tbsp (15 mL) vegetable oil
6 hamburger patties (each approx 1/2 / 1 cm thick)
Salt and pepper to taste
2 tbsp (30 mL) butter
1 onion chopped
3/4 lb (340 g) fresh mushrooms sliced
2 tbsp (30 mL) all-purpose flour
1 1/2 cups (375 mL) Milk
1 tsp (5 mL) Worcestershire sauce
1/2 tsp (2 mL) salt
1/2 tsp (2 mL) pepper
1/2 tsp (2 mL) paprika
2 tbsp (30 mL) fresh parsley chopped
Preparation
Heat oil in a large non-stick skillet. Cook hamburger patties approx 4 min per side. Season with salt and pepper. Remove from pan. Keep warm.
Return pan to heat. Add butter. Sauté onion and mushrooms about 5 min or until tender.
Sprinkle with flour. Cook 3 min longer. Add milk, Worcestershire sauce, salt, pepper and paprika. Bring to a boil. Reduce heat. Cook gently, uncovered, 4 to 5 min. Return hamburger patties to pan for 5 min or until cooked through. Taste and adjust seasoning, if necessary. Sprinkle with parsley.
Tips
To make Salisbury Pork Chops, use 6 pork chops (each 1/2-inch /1 cm thick). Cook them for 15 to 20 min.
Learn more about