Seafood sauté with vanilla Mornay sauce
This is the Seafood sauté with vanilla Mornay sauce recipe.
Prep: 20 min
Cooking: 25 min
Yields 4 servings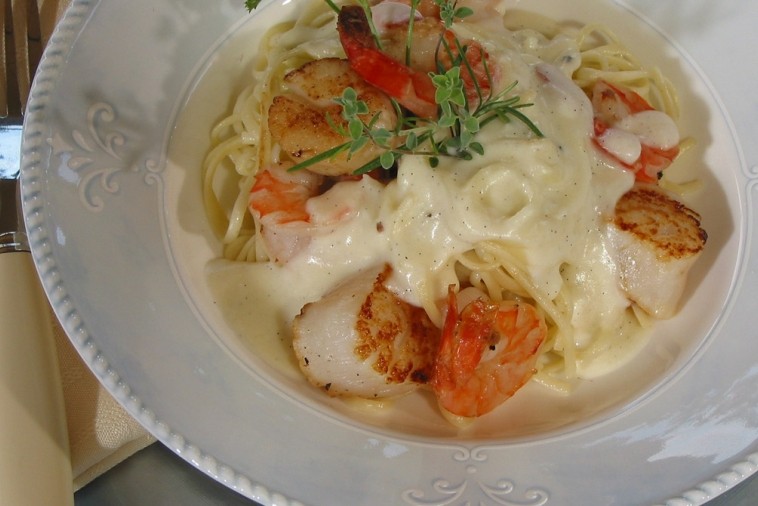 Ingredients
2 tbsp (30 mL) butter
2 tbsp (30 mL) all-purpose flour
1 1/2 cups (375 mL) hot Milk
1 vanilla pod split
Salt and freshly ground pepper to taste
1 cup (250 mL) Canadian Swiss cheese grated
2 tbsp (30 mL) butter
8 oz (225 g) shrimp peeled and deveined
8 oz (225 g) trimmed scallops
1/2 cup (125 mL) white wine
1 bag fresh mussels cleaned - optional
1/4 cup (60 mL) fresh parsley chopped
Preparation
In a pan, melt butter over a medium heat. Add flour and stir to make a roux paste, cook gently without browning. Gradually whisk in the hot milk. Add the vanilla pod to the milk, bring to the boil and simmer gently until desired consistency is reached. Season and melt the Canadian Grubec cheese in the sauce. Remove the vanilla pod.
Meanwhile, in a frying pan, melt the butter and sauté the shrimp and scallops over a high heat. Season to taste and set aside.
Deglaze pan with white wine, add mussels and cover. Cook for 3 to 4 minutes until mussels open. Remove mussels from pan and reduce cooking liquid by half. Pour reduced cooking liquid into the vanilla Mornay sauce.
Serve seafood over sauce or divide among gratin dishes, pour over sauce and broil under preheated broiler.
Tips
Try this recipe with Canadian Mi-carême.