Sirloin Steak with Peppercorn Sauce
This recipe is taken from the 1995 Milk Calendar. This is the Sirloin Steak with Peppercorn Sauce recipe.
Prep: 10 min - 15 min
Cooking: 15 min
Yields 6 - 8 servings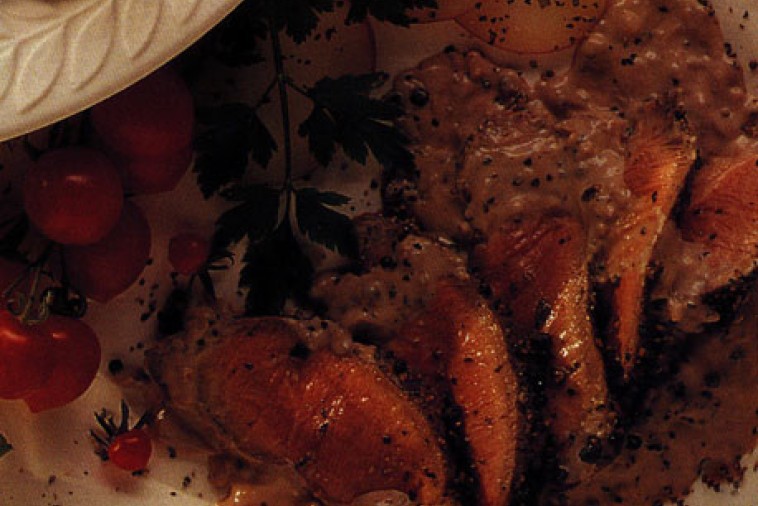 Ingredients
2 1/4 lb (1 Kg) sirloin steak about 1 1/2-inch (4 cm) thick, trimmed of fat
1 tbsp (15 mL) Dijon mustard
2 tbsp (30 mL) coarsely crushed black peppercorns
1 tsp (5 mL) salt
1 tbsp (15 mL) olive oil or vegetable oil
1 shallot or small onion finely chopped
1 garlic clove minced
1/2 cup (125 mL) dry red wine or beef broth
2 tbsp (30 mL) brandy - optional
1 cup (250 mL) 35 % cream
Preparation
Pat steak dry. Rub with Dijon mustard. Sprinkle with pepper and salt.
Heat oil in a large, heavy skillet. Add steak and cook approx 4 to 6 min per side on medium-high heat for medium rare. Remove steak to a serving platter. Discard all but 1 tbsp (15 mL) of fat from pan. Return pan to heat. Add shallot and garlic. Cook 1 to 2 min until fragrant. Add wine and brandy. Cook, scraping bottom of pan with a wooden spoon, on high heat until sauce is reduced to a few tablespoons. Add cream and continue to cook until sauce is thick.
Slice steak thinly on the diagonal and drizzle sauce over the top. Serve immediately.
Tips
If you prefer, you can use tenderloin steak (filet mignon) instead of the sirloin.
Learn more about